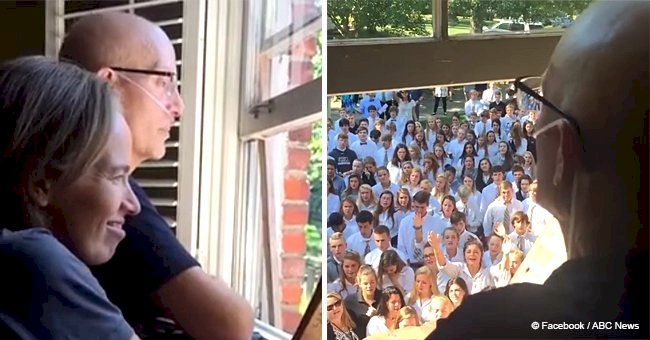 Beloved teacher died of cancer but his students gave him one last gift
The teacher who was serenaded by his devoted students succumbed to cancer.
Ben Ellis, a Latin teacher at Christ Presbyterian Academy in Brentwood died on September 16, 2016, after losing his battle with esophageal cancer.
Ellis first came to public attention when 400 of his students gathered outside his Tennessee home to serenade him and the video was posted on Facebook by ABC News where it went viral with over 1,200,000 views, and thousands of moving comments.
Country singer Tim McGraw shared the post and the heartwrenching video has since been viewed almost 30 million times.
"A friend sent this to me today. Ben Ellis is a Nashville area high school teacher battling cancer. The entire student body (400+ students plus HS faculty) drove to his house to worship with him."
Tim McGraw, Daily Mail, September 16, 2016.
"HOLY SPIRIT" - A BEAUTIFUL SONG OF HOPE
The Latin teacher's students wanted to pay homage to a devout man who'd inspired them and gathered outside his home and sang a prayerful rendition of "Holy Spirit."
The school's headmaster, Nathan Morrow, changed the schedule at the high school in order to allow the students and faculty members to go to Ellis' home.
THE 400-STRONG CHOIR WEPT AS THEY SANG FOR THE SICK TEACHER
In the video, a debilitated Ellis, using an oxygen feed, is seen at his window, while the hundreds of students crowd his lawn and sing to him accompanied by guitars. Many of the singers can be seen to be weeping openly at the sight of Ellis' frail figure.
A SAD AND MOVING GOODBYE SET TO MUSIC
Ellis was joined by his wife at the window and sang along with the chorus in a soft voice. Ten days after the event that would move the world, Ellis passed away, having lost his fight with cancer.
"We didn't necessarily serenade him. We got to worship with him"
Students later described their act as not a serenade, but as an act of worship, they shared with their stricken teacher. Ellis was a devout Christian who believed every day of his life should be dedicated to showing and sharing God's love.
A TRAGIC LOSS FOR THE COMMUNITY, HEARTBREAK FOR THE FAMILY
In the aftermath of his loss, after McGraw's post had brought his son's life and tragic death to the public eye, Bob, Ellis' father, thanked McGraw on Facebook.
'Thank you, Tim. Ben is my son. Through his ministry and teaching, he has positively touched countless hundreds of lives directly and many thousands indirectly,'
In Staten Island, New York, the PS22 Chorus composed of over 60 fifth-graders, sang a Martina McBride " I'm Gonna Love You Through It" to their teacher Adriana Lopez.
Lopez was battling breast cancer and the chorus director, Gregg Breinberg, explained that it was the children's idea to surprise her and show their admiration for her strength and courage.
Lopez was in the bleachers watching their last practice of the year when her students started singing her the ballad. Afterward, they ran to her, hugged her and gave her flowers.
In a related story, the father of a two-year-old girl diagnosed with acute myeloid leukemia visited at the hospital and surprised her with a heartbreaking father/daughter dance.
Please fill in your e-mail so we can share with you our top stories!