Martina McBride joined Kid Rock on stage for an unforgettable performance of 'Picture'
Singing icon Kid Rock joins musical forces with another star of country music, Martina McBride, to create a magical performance.
The two stars of music set the stage ablaze with their powerful voices and perfectly timed melody, which got the audience roaring to the top of their lungs as well as singing along all night long.
Uploaded to Facebook, the short clip of the performance sees Rock starting to sing one of his most famous songs, "Picture," in his usual smooth and raspy vocals.
The audience immediately erupts into cheers and applause. Soon they start to sing along the lyrics to the song, impressing Rock himself. The artist is so blown away by the reaction that he actually stops to sing and says, "Oh my!"
Follow us on Twitter to learn more.
After a moment, he continues to sing the song and the audience continue to cheer him on. However, their musical treat was only about to be doubled.
Following the end of the chorus part of the song, Rock takes a few breaths and announces in the microphone, "Now people, in Tennessee there are only two words that would describe class, beauty, and talent. Martina McBride."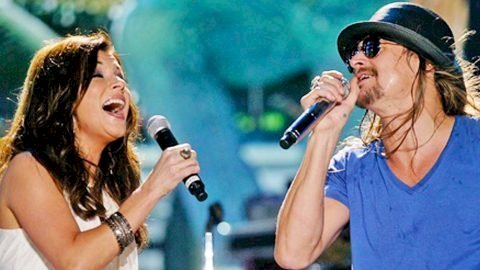 From a corner of the stage, McBride makes an entrance, waving out at the audience, and giving Rock a big, warm smile.
She approaches Rock and sits on the stool next to the singer. From there, she takes on the second stanza of the song and Rock's hit single gets a completely new dimension.
The duo's powerful voices complement each other as they sing it to timed perfection and synchronized harmony. The result is one of the best renditions of the song one would ever hear.
The heartwarming video has been viewed more than 33,000 times on Facebook and it has been shared more than 800 times making it go viral on social media.
Meanwhile, Country Rebel informed that "Picture" was the fourth single from Rock's hit album, "Cocky." The song peaked at number 21 on the Billboard Hot Country Songs chart, number four on the Billboard Hot 100, and number 2 on the Billboard Adult Contemporary chart.
Sending lots of love and prayers for Aretha. Truly a woman god has his hands on. All of my RESPECT - forever. Kid Rock pic.twitter.com/MLwpXWS5sT

— Kid Rock (@KidRock) August 14, 2018
A few months back, Rock grabbed a lot of attention with his sweet message for the Queen of Soul, Aretha Franklin. Franklin was gravely ill just days before her demise and many stars took to social media to lend her support.