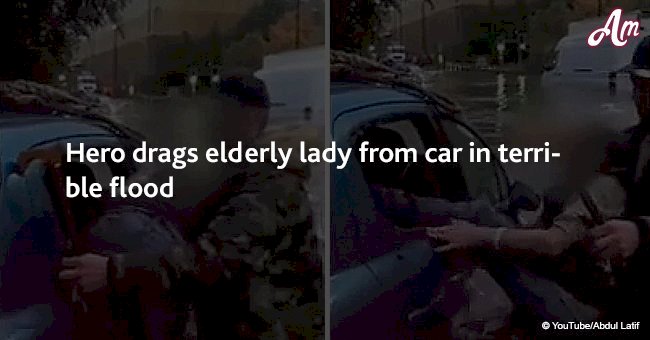 Hero drags elderly lady from car in terrible flood

Storm Bronagh forced residents in Wales and New England to deal with waist-high flooding earlier this week. An elderly that woman that got trapped in her car was luckily rescued by a brave man.
Richard Hamshaw received praise from family and friends after he extracted the lady without hesitation while her car filled up quickly.
The 32-year-old had to break a window in and pull out the lady into the water before carrying her to a safe area. The heroic clip can be found below.
Follow us on Twitter for more @amomama_usa.
Hamshaw resides in Rotherham, South Yorkshire, where he stays with his partner Laura and one child.
He described what happened:
"We've just seen a car drive straight into water like she didn't see it coming. Then her back end just started floating and we could hear her slapping at the window."
He continued:
"So we've gone up with the rope and smashed the back window and got her out the back of the car and then just got her out."
Hamshaw's mother-in-law said of the tree surgeon: "[He] would help anyone without thinking." She added that he was "slightly embarrassed" from all the attention for his heroic act.
But his wife explained:
"He would have seen the woman in trouble and just gone to save her. It would have come naturally to him, he would just do it."
She said that "even if the water had been up to his neck, he would have gone in to save her."
Apparently, Hamshaw "looked slightly embarrassed on the video when everyone was cheering him afterward."
Bronagh is the second named storm for the area this season. Winds of up to 75 mph resulted in four inches of rain as well as a few deaths to some Britons.
The Met Office issued a warning regarding danger to life due to flying debris. But strong winds were the reason one Swiss woman named Elvira Ferrari died on Wednesday during Storm Ali.
She arrived at Connemara, County Galway one day before becoming a victim of Ali's 102 mph winds. The 56-year-old mother of three's caravan was swept away and off a ledge. It entered the sea about 20 to 30 feet below.
Rolf Weber, a friend, said: "I am deeply shocked. This is just so tragic. I saw her two days before she left for Ireland in August. She was excited about her trip. She was off to learn English."
Matthew Campbell, in his 20s, became the second victim when a tree hit him. He worked on behalf of Northern Ireland Water with a colleague who was also injured in the incident.
The organization's spokesperson stated:
"We are deeply saddened to confirm that one of our employees has passed away as a result of their injuries and that another employee has been seriously injured and is currently being treated in hospital."
Campbell's former school, the Royal Belfast Academical Institute, renamed an attendance award at their school to "The Matthew Campbell Award for Outstanding Attendance."
Ali caused more devastation on Wednesday at Trinity Primary School in Edinburgh. One student was struck by a tree branch during his lunch at 1 p.m. He was taken to the hospital.
Hurricane Florence, which hit North Carolina in the United States last week, has also led to several deaths from heavy rain, flooding, and winds.
But a rescue of one dog touched the hearts of those who witnessed it live on TV. Reporter Julie Wilson risked her life to save a Rottweiler that was trapped in a flooded home.
Wilson said the dog was her daughter's therapy dog. While Wilson remarked that she "had no choice" but to save him, most considered the act quite heroic.
Please fill in your e-mail so we can share with you our top stories!