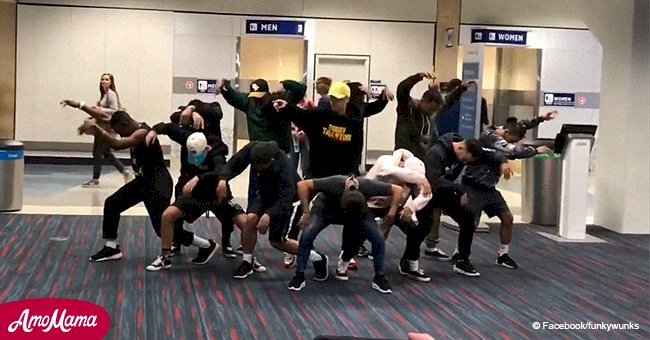 Dancers decide to entertain airport after flight is delayed for 6 hours
Dancing at an airport lifts spirits.
A recent flight out of Dallas, Texas got delayed for 6 hours, passengers in the terminal were getting more frustrated.
Suddenly a dance troupe appeared and started dancing.
Read more on our Twitter account @amomama_usa.
WHO THEY ARE
Funkywunks, a hip-hop dance troupe from Orlando, Florida have dancers ranging in age of 17 to 28.
Making name for themselves becoming the U.S. All Star Federation Champions in 2015 and competed on 'World of Dance' in 2018.
They started dancing to an extended version of 'Uptown Funk' by Bruno Mars.
Performing a flawless routine and captivating the audience, distracting them from their delayed flight was welcome.
Performing another amazing routine was the dancing duo Stephen Sayer and Chandrae Roettig from California.
The clip is from their performance at the Rock That Swing Festival and can be found at Swing dancers amaze audience with impressive 'Nitty Gritty' performance
THE REACTION
An impromptu performance by this group was well liked by the people waiting for their flights.
After the performance they posted the following on their Facebook page:
"Delayed Flight ✈️ for 6 hours in Dallas. Many angry & tired passengers. Soooo Funkywunks sprung into action to do what we do BEST!!! Entertain and put smiles back on their faces!"
A flash mob surprises people anywhere, anytime. This flash mob of 40 Irish dancers entertained people at an airport in Essex, London Southend Airport.
To see the video of their performance follow: 40 Irish Dancers Surprise Shoppers With Awesome Flash Mob.
Please fill in your e-mail so we can share with you our top stories!