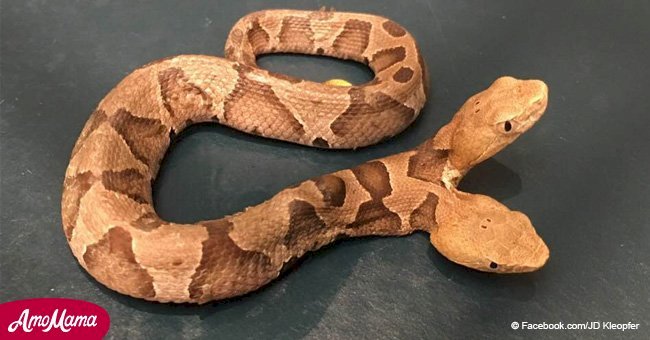 Rare two-headed snake discovered in woman's yard

A bizarre sighting was made in a Virginia woman's backyard on September 20 when she discovered a two-headed baby copperhead.
CNN Edition reported that the woman's name is Stephanie. She posted a picture of the rare creature to Facebook where she asked, "What are the odds to find a two-headed snake???"
Since then, internet users have spread the shocking photo throughout social media platforms. A video of the creature is found below.
Follow us on Twitter for more @amomama_usa.
Stephanie reportedly emailed her finding to the Virginia Herpetological Society, who identified the animal as a young Eastern Copperhead, a venomous snake.
A state herpetologist named J.D. Kleopfer retrieved the snake for evaluation. He said in a subsequent Facebook post:
"Wild bicephalic snakes are exceptionally rare, because they just don't live that long. Too many challenges living day to day with two heads."
Kleopher, a member of the Virginia Department of Game and Inland Fisheries, explained this particular snake's challenges after doing some radiographs at the Wildlife Center of Virginia:
"... we were able to determine that the left head has the dominant esophagus and the right head has the more developed throat for eating."
He further explained that "it would be better for the right head to eat, but it may be a challenge since the left head appears more dominant."
The left head seemed to be more responsive to stimulus as well.
Additionally, "the two heads share one heart and one set of lungs."
For this six-inch baby copperhead, Kleopher believes that:
"With a little luck and care, we hope to eventually donate it to a zoological facility for exhibit. It's currently being cared for by a private reptile keeper with lots of experience in breeding and rearing vipers."
The venomous snake enthusiast pointed out that the snake is not likely to harm anyone since they aren't usually aggressive.
In late 2017, another strange occurrence came to light when a two-faced kitten was discovered in South Africa.
Born in the Eastern cape, the cat named Bettie Bee struggled to eat due to its two faces. Its rescuer fed it through a tube.
Sadly the kitten passed away after two weeks of doing very well. Her Facebook page is still up for those who want to see her story.
And earlier this month, two snakes, unattached, fell through a bedroom ceiling in Australia.
The carpet pythons fought each other as they entered a guest bedroom of a family in Brisbane.
The family called Snake Catchers Brisbane who came in and separated the two males, about 1.75 m each.
The video showed the snakes vigorously trying to overpower each other, likely for the affections of a nearby female.
Please fill in your e-mail so we can share with you our top stories!