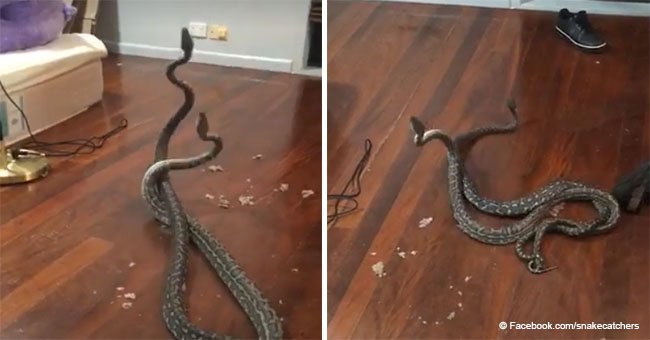 Two large snakes caught fighting on camera after falling through bedroom ceiling
Two giant snakes crash through the ceiling into a spare bedroom
A family in Brisbane, Australia had the fright of their lives when a pair of writhing snakes crashed through their ceiling and landed inside their home.
The reptiles were coastal carpet pythons, both males, and around 1.75 meters long each.
The family contacted Snake Catchers Brisbane, and snake catcher Lana Field rode to the rescue, and details of the adventure were posted on Facebook.
"People often mistake this as mating but it is combat- They wrap around each other wrestling, to compete to see who is strongest."
Lana Field, Daily Mail, 10th of September 2018.
Two warrior snakes were captured by the snake catcher.
Field explained that though people who see the snakes often think they are observing a mating ritual, what is actually happening is very different,
The two snakes were most likely competing for the right to mate with a nearby female when they "broke in" to the family's spare room.
Read more about wildlife on our Twitter account @amomama_usa.
Fighting for the right to mate
The two male coastal carpet pythons were likely competing for the affections of a nearby female.
In the video, the two snakes can be seen wrestling vigorously, rising up into the air, each trying to dominate the other.
Spring is snake season in Australia
Field explained that the beginning of Spring in the southern hemisphere has triggered an increase in snake activity.
The Brisbane family can be thankful because a specimen was removed from a home in Sunnybank measured a whopping 3,5 meters and weighed in at 11 kilos.
Poisonous snakes removed from several homes
Though no-one enjoys a home invasion by snakes, carpet pythons are not poisonous.
Field reports that venomous snakes have also been seen in the area, and several poisonous red-bellied black snakes were removed from homes in Salisbury and Slacks Creek.
Australia's slithery population is largely poisonous
Australia has over 170 snake species of which 100 are venomous.
Despite being home to the top three most venomous snakes in the world, only two to four fatalities due to snake bites occur each year.
Read more snaky stories in the articles below:
Fearless grandma caught on camera wrangling two large snakes out of her BBQ
Scary video of snake that crawled into the toilet of a private house
Please fill in your e-mail so we can share with you our top stories!