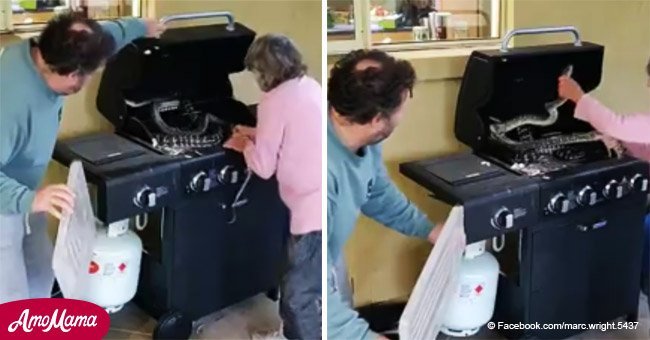 Fearless grandma caught on camera wrangling two large snakes out of her BBQ

In a new shocking viral video, a fearless 81-year-old grandmother from Brisbane can be seen removing two snakes from a barbecue.
The video was first shared on Facebook over the weekend by Marc Wright. It had been viewed nearly 4,000 times in three days.
He wrote in the caption that he is brave and would have removed the snakes himself, but "common-sense prevailed" and "Tori's grandma" Faye Morgan did it instead.
She can be seen lifting the lid before grabbing the snakes. The video of the shocking incident can be seen below.
Read more on our Twitter account, @amomama_usa.
Wright stood ready with a large container. Despite saying he was brave enough to handle the situation, it almost looks as though he was trying to hide behind the plastic tub.
Morgan, also known as "Nana Faye," put the first snake in the container, and Wright quickly secured the lid while she grabbed the second snake.
She grew up on a farm and is used to dealing with snakes and other dangerous creatures. She told reporters:
"I'm not scared; I love it. I say goodbye to them, and say 'hope you have a lovely life' when I relocate them."
In fact, just a year and a half ago, Morgan freed another python from the same barbeque. That said, she would like to advise those less experienced to proceed with caution.
Stuart McKenzie, a qualified snake catcher, warned the public against the dangers and said reptiles must be handled with the utmost respect.
An American pastor from Middlesboro, Kentucky, unfortunately, didn't heed the warning and nearly died when he was bitten by a snake earlier this year.
Handling snakes as a part of religious services have been around for more than a century, and many churches follow the same principles.
In other news, a homeowner from the Gold Coast, Australia, got the fright of his life when he saw a large python slithering up the side of his home and into the ceiling.
He is now forced to keep his windows closed, even on the second floor.
Please fill in your e-mail so we can share with you our top stories!