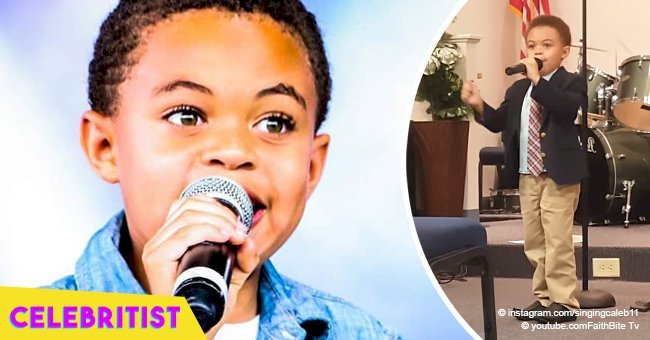 6-year-old praise and worship leader goes viral with his amazing performance

6-year-old boy sings "This Light of Mine" and goes viral for his praise and leadership performance style.
6-year-old Caleb Serrano wows everyone as he enthusiastically sings "This Light of Mine" during a worship event. Caleb is a praise and worship leader from Greensboro NC, who has been sharing his amazing voice through worship songs in different churches while traveling with his grandfather, whom he claims he got his talent from.
Caleb's parents, Richard and Dalelah Serrano claim that he was always in touch with his artistic and performing side. They said that he was the type of child who could sing before he could talk, and not just any songs, but gospel music at Ebenezer Baptist.
His video's on social media, specifically his performance of "This Light of Mine" became viral and was noticed by many. This was the video that first gave him notice on social media. His singing also brought him on his second appearance on season 2 of Little Big Shots with Steve Harvey and landed him a performance with Harry on the Harry Connick Jr. Show.
Little Big Shots is a show that features talented kids of all sorts as interviewees with Steve Harvey, who is both host and executive producer of the show. On the other hand, Caleb's appearance on Harry Connick Jr. Show increased his fame as he sang while Harry played the piano. The video also went viral on social media, earning 14 million views on Facebook alone.
It definitely pays to have a beautiful voice, but it adds meaning when you sing them for the right reasons – as worship and praise. In fact, it can get you out of even the worst situations. A couple of years back, it was reported that a kidnapper set a 10-year-old hostage free as the kid didn't want to stop singing gospel songs. While this may be for laughs now, it certainly saved a life back then
Please fill in your e-mail so we can share with you our top stories!