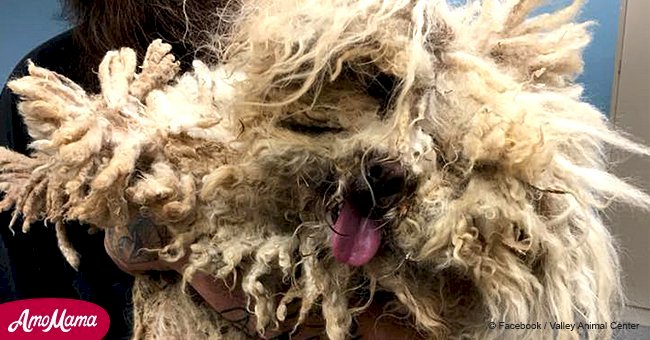 Poor dog completely imprisoned by its own fur can finally move freely

Jareth finally loses his fur.
Earlier a 5-year-old poodle named Jareth was surrendered to the Valley Animal Center in Fresno, California.
His background is unclear but it was obvious the dog suffered neglect where he came from.
Read more on our Twitter account @amomama_usa.
WHAT HAPPENED TO JARETH
Community relations coordinator for the shelter, Devon Prendergast told Dodo:
"Our staff was in complete shock as they carried him into our adoption center. One of his eyes was completely covered by the matted fur and stickers intertwined in the fur. His feet were so matted that his pads couldn't touch the surface of the ground and he could barely move."
Jareth was completely covered in matted fur, he could barely move and couldn't see out of his eyes.
In Canada, Nova Scotia there is a yellow school bus driving around picking up passengers but of the dog variety. To find out why they are transporting the dogs follow this story Every day this bus picks up 'furry' students and takes them to doggy daycare.
UNVEILING JARETH
Prendergast continued:
"Our animal care team rushed him to our clinic within the hour, and due to the severity of his condition, had to sedate him to remove all the excess fur."
They had to sedate Jareth before the matted fur could be removed, and once done turned out to be approximately 2 lbs worth of fur.
After a few days Prendergast was glad to say:
"Although he suffered severe trauma and neglect, just four days after having all the matted fur removed, Jareth is now vocal and full of energy. "He enjoys his walks on a leash and loves having his new soft coat petted."
As soon as Jareth recovered from his ordeal he will be available for adoption.
Another dog was abandoned and also unable to do anything due to his matted fur.
He was found in the middle of the night flea infested and with matted fur to the extent of being unable to go to the bathroom.
More on this at Florida groom gives abandoned dog a life saving makeover
Source: BGE Grooming
Please fill in your e-mail so we can share with you our top stories!