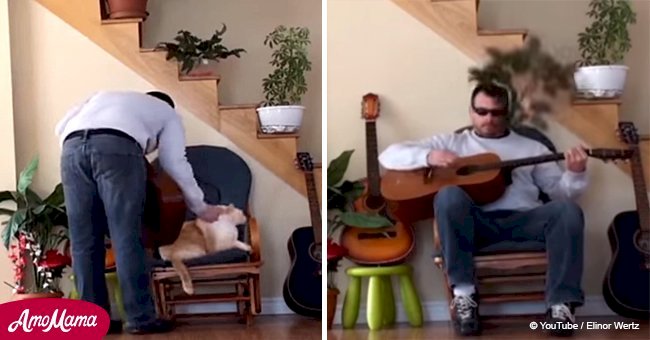 Сat was rudely kicked out of a chair by its owner, but moments later, the pet took revenge

A video went viral after a cat takes revenge on his owner for his rude awakening.
The way we interact with our pets can sometimes have surprising consequences.
Source: Freepik
In the video, the interaction between the man and his cat can clearly be seen. The video clip generated a variety of responses from those that saw the video.
Read more on our Twitter account @amomama_usa.
HOW IT CAME ABOUT
The cat was sleeping soundly on a one-man chair while his owner prepared to film himself playing.T he owner approaches the cat strumming the guitar close to his ear.
Then proceeds to grab the cat by the scruff of the neck who was facing away from him, and pushes him off the chair.
A father strumming the guitar for a different reason goes viral when the mother accidentally caught it all on video while filming their twin baby girls eating.
The reaction of his baby twin girls is what caused the video to be so popular. For the full article and video follow the link.
He walks after the cat, nudging it away with his foot, making sure the cat understands he should leave. The owner sits down on the chair and begins to play.
CAT REVENGE
Moments later the cat is seen running up the stairs behind where his owner is sitting. On the edge of some of the steps pot plants have been placed creating a nice effect.
As the cat runs up the stairs he knocks over a pot plant falling on the owners head. The owner stops playing his guitar grabbing his head while the cat continues to run up the stairs.
Some owners go to extremes when they feel their pets get too much to handle and unfortunately, they often get dumped somewhere. The following article about a neglected Shih Tzu that was found in a garbage bag can be found here.
Source: RACC
Please fill in your e-mail so we can share with you our top stories!