Newborn twins force nurses to put them back together again with their heartbreaking crying
Born back in February, twins Weston and Caleb Lyman showed the incredible bond right from the start.
When they were born at a Florida Hospital, they were placed together but were later placed separately.
That's when they started crying hysterically. However, they again stopped crying immediately when placed back together.
The emotional moment in the family was recorded and caught on tape by their father, Dane Lyman, who is a medical student at the University of Central Florida.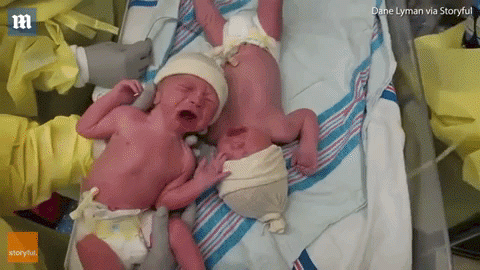 Follow us on Twitter, @amomama_usa to learn more.
He was there to witness the moment because he had gone to check on the boys and find out their weights. Dane told News Center Maine:
"One of our greatest hopes, [...] was that they would be good friends and support one another. Seeing them comfort each other just moments after birth was almost like the first step in that special relationship."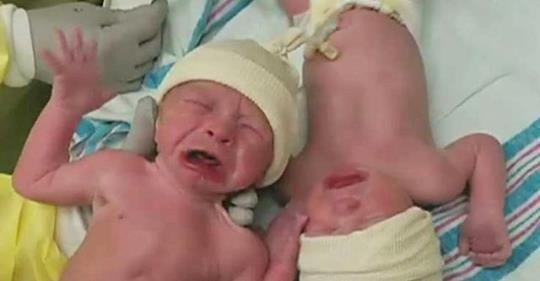 Dane's wife, Lisa, is a nurse and has decided to stay at home to take care of the babies. She could not bear to see her children crying.
He further opened up about his wife's emotional reaction and explained that the couple still tear up when they see the video. He added:
"My wife Lisa wasn't able to see that and didn't even know it was happening. When I showed her, she was emotional and grateful I captured that moment. We both still tear up when we watch it."
It was further informed by the source that the twins' delivery went smoothly despite being born four weeks prematurely.
The emotional video has been viewed more than 10,000 times on YouTube. It amassed more than 168,000 views and more than 411 shares on Facebook. 
The surprising reaction shown by Weston and Caleb is consistent with various studies conducted by several institutions.
It has been discovered that hearing and touch senses are highly developed in babies. Vision in newborns is still blurry but they pick up on the vibrations during pregnancy.
When Weston and Caleb were born, they started hearing right away, and the voices in the room where they were placed were stranger to the environment they were accustomed to for nine months.
The only comfort they found was when they touched each other because they were together for several months prior to their delivery.
In the emotional video posted on Facebook, several social media users took time to comment on their experience of witnessing the moment.
The intimate bond that twins share is truly a special one.
Another such heartwarming connection between twin sisters was on display back in 2014, when a mother gave birth to twin girls who came into the world holding hands.