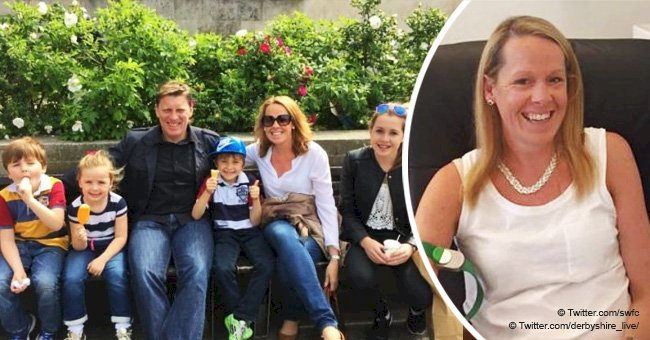 Mother of four watched a video of her children saying goodbye on the eve of her death
A 37-year-old mother of four lost her long battle with breast cancer.
Hayley Kalinins, from Borrowash, Derbyshire who had been battling cancer for 7 long years, passed away, reported the Derby Telegraph on September 20, 2018.
Hayley was first diagnosed with breast cancer in 2011, despite several treatments to boost her immune system and rounds of chemotherapy, the cancer spread to her liver and lungs.
After 70 rounds of chemotherapy, and debilitating surgery in an attempt to remove the spreading cancer, doctors told the family that was no more treatment options available for Hayley. It was time to say goodbye.
Her children filmed one last message and it was the last thing Hayley saw.
"I did everything I could to support Hayley in her battle with cancer. In the end the cancer killed her. I will not let cancer destroy the family Hayley made. Thank you for all the messages. I will reply. I just need time now."
A HEARTBREAKING FAREWELL FROM THE CHILDREN
In the video, the children play piano for Hayley, and her little girl does a lovely rendition of "My Heart Will Go On" from the movie "Titanic."
Then all four children step in front of the camera and one of the boys tell her that they all love her and to "keep battling on."
DEALING WITH THE LOSS AND COMFORTING THE CHILDREN
Andy has thanked the many people who have tended their condolences and explained that at this moment he is working through the moment and helping his children deal with their mother's death.
A LONG ORDEAL AGAINST HARROWING ODDS INSPIRED THOUSANDS
Her fight had inspired thousands, including football megastar Cristiano Ronaldo - whose own mother has battled and defeated the dread disease - who personally signed a football shirt for Hayley.
Hayley's death is touching people all over the world, and her grieving supporters have been reaching out to her husband Andy and her children.
THE CHALLENGE OF LIVING WITH A LOVED ONE'S CANCER
Many families are dealing with the terrible ordeal of watching a loved one fighting this terrible disease, explained Women's Health Magazine, and one of the most prevalent feelings are those of helplessness.
Families are confronted with a strange world of mysterious medical procedures and science and feel lost and unable to help.
The advice is to seek information from the accompanying physicians and also from the internet. What the patient most needs from his or her family is support, and a loving advocate.
Being there for the treatments, being there to remind them that they are still themselves even if it feels as if their body has betrayed them.
In a related story, BBC Radio 5 Live presenter Rachael Bland died at the age 40 after a two-year battle with breast cancer, leaving a tiny 3-year-old son Freddy and her loving husband, Steve.
Please fill in your e-mail so we can share with you our top stories!