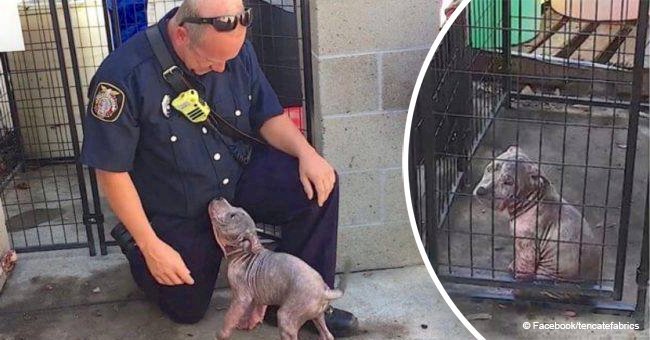 Sad dog cried inconsolably in a shelter until firefighter who rescued her came by to pick her up
A cute puppy was rescued from a home where she was mistreated but instead of being happy she seems very sad until suddenly her savior appears.
According to Little Things, Chunkie is a 5-month-old pit bull puppy that was recently rescued. Even though her hair is a very nice gray color, little of her fur could be appreciated due to a serious scabies infection that had been destroying the skin of the little dog.
Mike Thawley from Fire Station 14 in Sacramento, California, discovered the dog completely abandoned, she was tied to a post and suffered from the heavy rain that fell at that time. The firefighter took pity on her and quickly took her to a shelter to be examined.
After an exhaustive review by the veterinarian, the dog was taken to the cage assigned to her for the time she gets a new home. However, the shelter staff realized that Chunkie didn't seem happy and relieved but deeply sad.
But the next day everything changed, when Chunkie saw that the hero who had rescued her returned to the shelter to find out how she had spent the night and to play with her for a while, her expression changed immediately and she began to play like any other puppy of her age.
Apparently, in the short time that little Chunkie had shared with her rescuer, she had clung to him in such a way that she already missed him and waited anxiously for him to come back for her.
In the video that shows the reunion, you can clearly see the joy and excitement with which Chunkie receives the hero who took her out of that home in which they mistreated her and did not give her the necessary care to develop healthy and happy.
Now Thawley is doing everything possible to become the official foster father of Chunkie and he can't wait to take her home to play with his children.
This story reminds us of a Santa Monica firefighter who spent more than 15 minutes giving oxygen to a 10-year-old dog who had suffered during a fire that occurred at home while he was alone.
Although all efforts to resuscitate the dog seemed useless, the firefighter did not give up and continued to massage the animal, giving him more oxygen and calling his name over and over again until the dog finally managed to breathe.
Another lovely story is one of a lovely pregnant dog that was taken to a refuge, but when she gave birth her puppies surprised everyone, even herself.
Please fill in your e-mail so we can share with you our top stories!