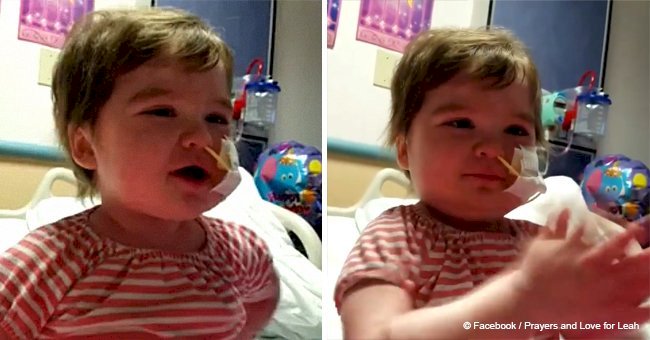 Little girl continues singing and smiling after two bone marrow transplants (video)

Four-year-old Leah Carroll was filmed singing and smiling from a hospital bed. The little girl underwent two bone marrow transplants.
In a viral Facebook video posted two years ago, Lea can be seen singing and dancing along to her favorite song, Mandisa's "Overcomer."
Follow us on our Twitter account, @amomama_usa, to learn more and scroll down to watch the video below.
The caption of the clip says, "She's an overcomer. Septic shock, two bone marrow transplants, graft vs. host disease and 325 days away from home in the hospital. God is so good to us through it all and Leah is proof of his mercy and grace! I do not own the rights to this song."
Lea has spent more time inside Oakland Benioff Children's Hospital than she has outside, as reported by CBS News.
The little girl was diagnosed with severe congenital neutropenia, a rare blood disorder where bone marrow is unable to make normal white blood cells.
One of the first doctors who treated her was Dr. Alison Matsunaga.
"She has issues with just normal feeding because of problem with her absorption through her intestinal tract. So she's required many different treatments," said Dr. Matsunaga.
Leah became a fan of Mandisa, a gospel singer, when her mother, Lindsay, looked for songs on the internet one day.
Lindsay just wanted to distract her daughter from boredom and pain.
Leah then became an internet sensation because of her video singing "Overcomer."
When the CBS News asked her mother why she believes Leah's video resonated with a lot of people, she responded:
"The world just needed some joy right now, especially in the United States. And I think Leah just has this pure joy about her."
Lindsay added, "And the song itself is just really, really fitting for her life. You know, being an overcomer and getting through everything she's been through."
Leah's little voice has inspired many sick people and those who have added comments on her video.
Please fill in your e-mail so we can share with you our top stories!