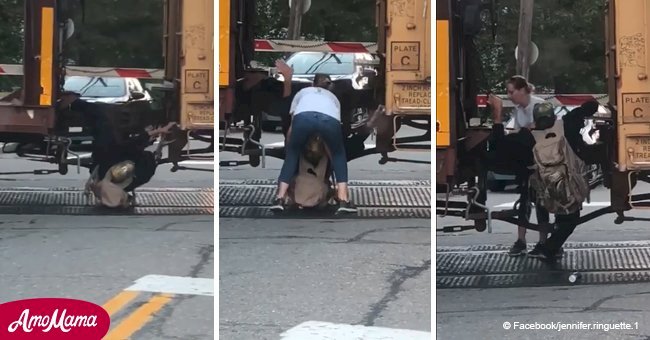 Heroic woman puts herself at risk to rescue a man stuck between two train cars (video)

A heroic woman who saved a man caught between boxcars has a day named after her.
Jennifer Ringuette has been hailed a hero by her hometown, and to honor her, they decided to name a day after her. Ringuette earned her accolades by performing a daring rescue and saving a man's life.
Mayor Mark Hawke proclaimed Sept. 19, 2018, to be "Jennifer Ringuette Day in the City of Gardner" in acknowledgment of her actions that "in all likelihood saved a man's life."
The ceremony took place at the police station and Ringuette posted a video on her Facebook account, jennifer.ringuette.
AN INTOXICATED MAN GOT HIMSELF INTO TROUBLE
A train had stopped at the Gardner station, and Ringette noticed that a man had his leg stuck between two boxcars.
The man, who police later ascertained to be intoxicated, tried to pass between the two box cars and became trapped.
THE HEROIC RESCUE TOOK PLACE AT THE TRAIN STATION
Ringuette saw the man's predicament and rushed over. She helped the man free his leg before the train started moving again, and saved his life.
A SPECIAL DAY JUST FOR THE TOWN'S NEW HERO
The ceremony that named the day as Rinhgette's was attended by City Councilor Christine Johnson, State Sen. Dean Tran, R-Fitchburg, State Rep. Jon Zlotnik, and officiated by Mayor Mark Hawke.
ANOTHER HERO SAVES A MAN FROM A BURNING CAR
Heather Zabrowski, 29, was running errands when she saw the car ahead of her veer off the road and burst into flames.
Inside the car was a 67-year-old-man, and police would later discover he had lost control of the car because he was suffering from a severe diabetic reaction.
Seeing the car enveloped by fire, Zabrowski stopped and ran out screaming for help. She reached the car and opened the door, dragging the unconscious man out before he was burned,
Her prompt action saved his life, and her story has gone viral, with thousands praising her for her selfless act of courage.
In a related story, a woman risked her own life to rescue a woman and a boy, who were kidnapped and driven hundreds of miles to Central Ohio.
Please fill in your e-mail so we can share with you our top stories!