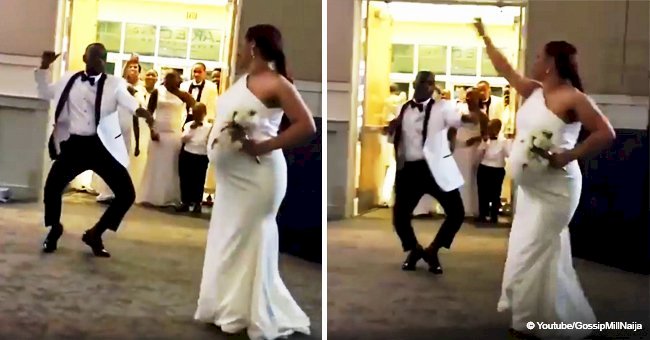 Heavily pregnant bride sets the dance floor on fire with her moves on her wedding day
This happy bride surprised everyone at her reception with her fantastic dance moves, even while carrying the weight of her big baby bump.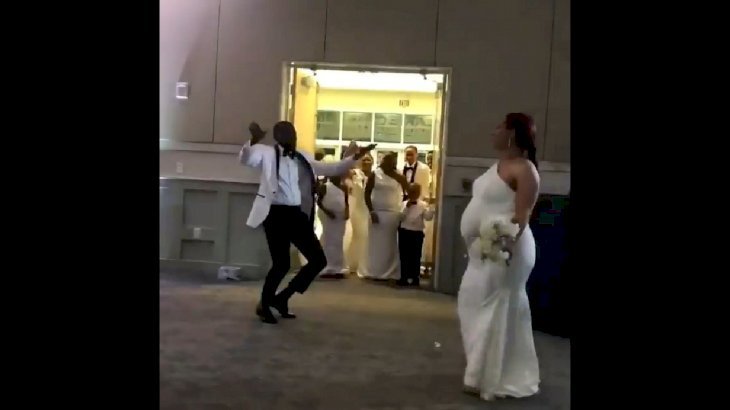 Source: Facebook/Gossip Mill Nigeria
The unidentified woman has become a viral sensation after a video of her wedding day was shared on several Facebook pages who praised her for "killing it" on the dance floor while pregnant. In the 45 seconds clip, the stunning bride is seen entering the salon where her wedding reception was being held in the company of her husband.
The happy bride and mom-to-be entered the room with the brightest smile on her face, rocking a tight, off the shoulder dress with a simple silhouette, and still holding her flower bouquet.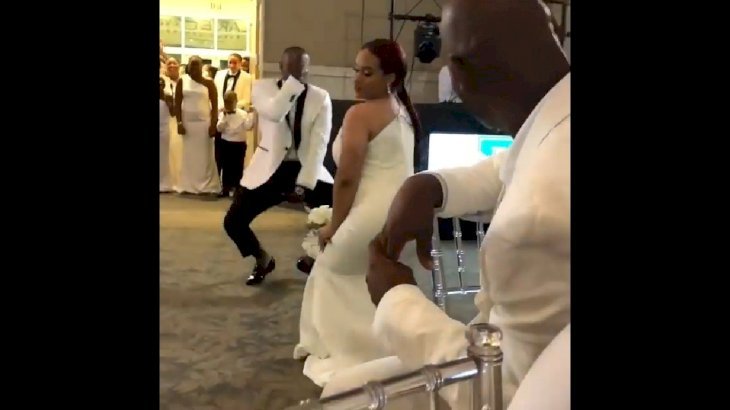 Source: Facebook/Gossip Mill Nigeria
The woman crouched down, twerked and rubbed her belly while dancing to Starrkeisha's song "The Baby Mama Dance" with her husband. She got encouragement from her guests, who were all seated to leave the dance floor free for the newlyweds.
This baby mama stole the show at her wedding, like it should be, making the occasion even more special by including her baby, still on her belly, into the celebration with that welcoming song.
While the video cuts short and is not clear what happened next with the bride, we hope she had the chance to enjoy her wedding celebration all night because another bride, named Dannie Mountford, didn't have the same luck.
HER WATER BROKE IN THE MIDDLE OF HER FIRST DANCE
Mountford, 19, and her husband Carl, 18, were expecting their first child in January. SO, they planned their wedding in six weeks and got married on December 18, hoping to have a few weeks to get ready to welcome their baby girl next.
However, while the couple was in the middle of the dance floor for their first dance as husband and wife, Dannie's water broke, and they had to leave the celebration and go to the hospital, where she delivered baby Jasmine after six hours of labor.
"One second I was dancing with my new husband, and the next I was giving birth to my little girl," said Dannie of her unforgettable big day to the Daily Mail.
"It was such a big surprise, but it's made our wedding day even more memorable and will always be extra special."
She recalled the moment she knew something was off, saying:
"As I was dancing, I felt something coming trickling down my leg, and when it didn't stop, I ran over to my mum who helped me to the toilet. While I was in the toilet, all of the wedding guests were coming in to check on me, and someone booked me a taxi to the hospital. It wasn't until I was in the labor ward that my wedding dress was taken off. It was soaking because of my waters bursting on it."
Even though their daughter Jasmine made an early arrival, family and friends kept on celebrating at the reception while the couple and some of their most close family members ended the night on the hospital.
"It's been hectic since because it was such a surprise, but I wouldn't have changed it for the world. And even though my dress and garter got ruined by my waters and my night was cut short, the day was still perfect to me," concluded the new bride and mom.
Please fill in your e-mail so we can share with you our top stories!