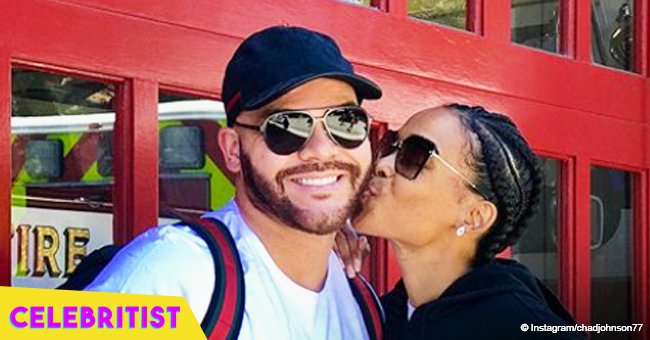 Michelle Williams poses in tight leopard outfit next to her fiance in recent photo
Michelle Williams looks stunning next to her fiancé, Chad Johnson, as the couple poses in a pic to announce their upcoming reality show with the Oprah Winfrey's Network. The couple announced their engagement last April, and now they're ready to share their journey with fans.
The former Destiny's Child member is excited about opening the doors of her life to her fans through OWN's upcoming reality show "Chad Loves Michelle." To announce the good news, Williams took to Instagram to share a gorgeous pic with her fiancé.
In the shot, Michelle looks all shades of beautiful in a body-hugging leopard print pencil dress, rocking a long braid that reaches her waist and flaunting her engagement ring. Chad, on the other hand, looks handsome in a black suit with a black t-shirt underneath and a red handkerchief to add color to his look.
The couple looks happy with Chad holding Michelle's waist and her resting her arms on his shoulder. Williams captioned the pic:
"Hear Ye! Hear Ye! Chad and I are so excited to announce a partnership with @owntv in the premiere of our new show Chad Loves Michelle #AndILoveHimToo that we are also executive producers of! I know, I know "Don't do it," "Why in the world would you guys put yourselves out there?" This is an awesome, unique opportunity to show what God is doing! We mutually wanted to show our journey to marriage. We invite YOU on Saturdays starting November 3 at 9 PM!!"
Fans of the singer immediately filled her comment section with their thoughts on the photo and the series. User @blacktvlovestories wrote:
"You're in great hands at @owntv. They are talented people who put out dynamic stories and shows about love relationships! Congratulations on the engagement and the new show."
While @kamilahspeaks said:
"Will def be tuning in! So grateful to see Godly love on television."
And @evanofhollywood added:
"Congratulations Michelle. You are such a beautiful couple. May the higher power bless you guys now and forever. Love does exist."
According to the press release by OWN, the series will be following Michelle and Chad as they move their lives to Los Angeles to start the wedding preparations, a pre-marital course, and their vows to wait until after marriage to have sex.
HOW THEY MET AND WHY THEIR RELATIONSHIP WORKS
They met last year on a spiritual retreat, and their relationship built through Facetiming, text messages and calls until they had their first date months later in a wedding in the Dominican Republic. Williams kept the relationship in secret from her friends and family, afraid of jinxing it before knowing how real he was.
Soon, she realized that she could be real with Chad and that he didn't love her as Michelle Williams the star but as the young woman who was seeking refuge in her faith after fighting a several depression for years.
"My first name is Tenitra; my middle name is Michelle. I felt like I could be Tenitra: just ratchet, I didn't have to have on any makeup, if I had to have on my hair bonnet — he just made me feel very safe in being myself," she told People.
The couple hopes their story can inspire people not to lose hope in love and can help to put an end on the criticism interracial marriages still get, as Johnson said:
"I'm white; she's black. What a special time for our relationship to be on display in that respect with the tension in the world and our country."
Please fill in your e-mail so we can share with you our top stories!