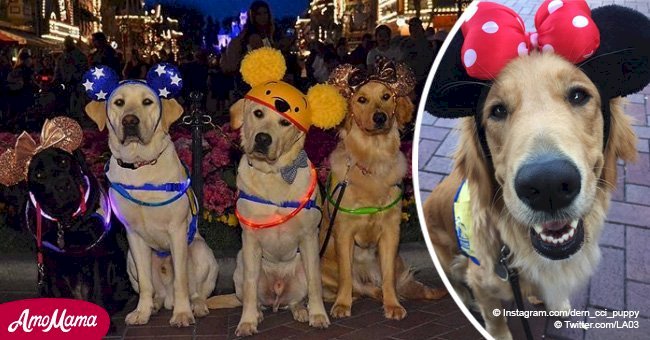 Service dogs go to Disneyland and it's the cutest thing you'll see all day
As part of regular training processes volunteers that work with nonprofit group Canine Companions for Independence, which breeds, raises and trains skilled assistance dogs for adults, children, and veterans, takes pups to Disneyland for work and play.
Dogs are not allowed into Disneyland, with the exception of assistance dogs from Canine Companions for Independence. The spokesperson for Canine Companions, Michelle Williams said:
"It's great socialization for the dogs since they get to be around all the different sights, sounds, smells and people that Disneyland has to offer."
Read more on our Twitter account @amomama_usa.
TRAINING ASSISTANCE DOGS REQUIRE TIME AND SPECIAL SKILLS
Canine Companions for Independence only train Labrador and Golden Retrievers, and a crossbreed of both. The dog spends its first year and a half with a volunteer teaching it basic commands while getting socialized in public and private settings.
Then the dog returns to one of CCI's regional facilities where advanced training commences for 6-8 months and taught commands in support of the specific field of assisting chosen.
The dogs are taught a baseline of 40 commands, and depending on the kind of assistance these dogs will be trained for, would be able to perform various tasks as well. The four types of assistance dogs include Service dogs, hearing dogs, facility dogs, skilled companions and veteran assistance dogs.
Labrador and Golden Retrievers make the best assistance dogs because this breed is obedient, wanting to excel at the task given by their owner.
They are also protective and intelligent as seen in another case where a black Labrador literally jumped into action to save fellow dogs trapped on a canoe because currents pushed the boat away from the riverbank. Thankfully the group of dogs from Canine Companions at Disneyland had only one worry - which Disney character to play with.
Visitors to Disneyland soon began posting pictures and updates of the dogs having fun, they met various Disney characters enjoying themselves while the volunteers from Canine Companions for Independence (CCI), took great care of them. Their regular visits to Disneyland bring joy to both dogs and visitors alike.
The dogs especially enjoy meeting Disney characters reacting to them with curious delight, however, another Golden Retriever got surprised when his owner came into the room dressed like his favorite stuffed toy Gumby.
The dog is seen chewing on his Gumby toy when the man enters the room. Looking at the man in disbelief the dog slowly get up and approach him slowly before breaking out in tail wagging playfulness.
Please fill in your e-mail so we can share with you our top stories!