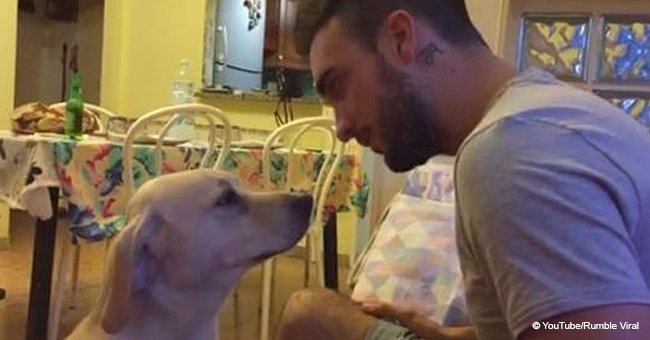 Heartbreaking video of dog asking for forgiveness quickly went viral

Ettore the Labrador clearly committed some great sin and begged for her human's forgiveness after he scolded her.
An adorable video was shared on YouTube three years ago and shows Ettore trying to win back the approval of Anthony Federica Granai.
Read more on our Twitter account, @amomama_usa. The adorable footage can be seen below.
The video starts with Granai sitting on a couch and scolding Ettore for some unknown crime while the dog has a morose expression.
She then tries to get onto his lap and rests her head against his lap. He can be heard saying "no," but Ettore doesn't give up.
She moves higher up and rubs her head against his neck and face, still in an attempt to earn his forgiveness.

Source: YouTube/Rumble Viral
Ettore places her one paw on his shoulders, but Granai takes her paw as if to stop her from giving him an adorable hug.
Eventually, he gives and cuddles Ettore, with the dog clearly pleased that she is in his goods book again.

Source: YouTube/Rumble Viral
His friends can be heard laughing in the background. The video has been taking the internet by storm for three years now and had been viewed more than 6 million times.
According to Wag Walking, it's not all that hard to train your furry friend to say sorry, and the site gives three methods.

Source: YouTube/Rumble Viral
The non-vocal method requires putting a treat by the dog's paw. Once he looks down, or his chin touches the floor, give him another treat.
The same results can be achieved with the "With Paw Method." If done right, the dog will "apologize" by giving you his paw.
Don't forget to give him a treat, and remember that practice makes perfect! The instructions can be read here.
If that doesn't work, you could always just sing to your pooch, like country singer and songwriter Brett Eldredge does.
He loves to serenade his dog, Edgar Boogie, a rescue pup he saved two years ago. Edgar is one strange pup and already has a strong following online.
To learn more about Edgar, take a peek at his Instagram profile.
Please fill in your e-mail so we can share with you our top stories!