Horse wanted to be a tv-star so much that she became famous through the Internet
This horse took full advantage of her chance at 15 minutes of fame, and it seemed to have worked. The hilarious clip went viral on YouTube and for good reason. 
A reporter dressed in a green shirt stood directly in the front the horse Frankie's stall. The man appeared to be doing a story related to the horse. The video is found below.
Frankie, however, seemed more concerned with getting the man's attention than letting him finish the story. Either that, or he simply wanted the spotlight all to himself.
Follow us on Twitter for more @amomama_usa.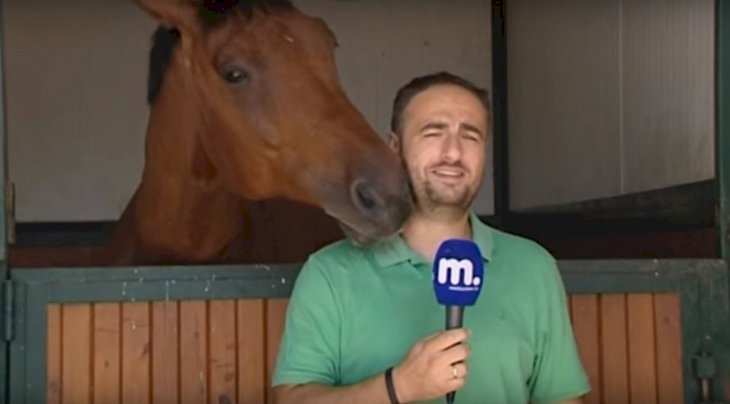 Frankie persistently nudged the reporter, who tried, again and again, to get through the same sentence without the disturbance. 
But Frankie is all over the man's face. In a take, he even rested his chin on the reporter's head. The man is enthralled and can't help but laugh at the horse.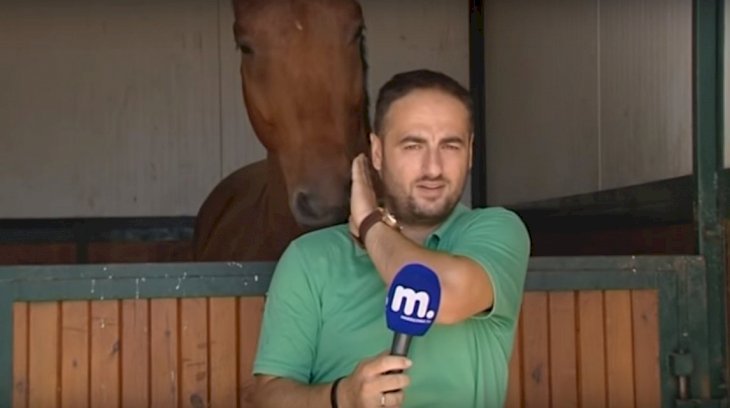 Frankie goes from nudging to nibbling on the reporter's ears, leading to another fit of laughter. 
Instead of giving Frankie the desired affection, the reporter continued his attempts.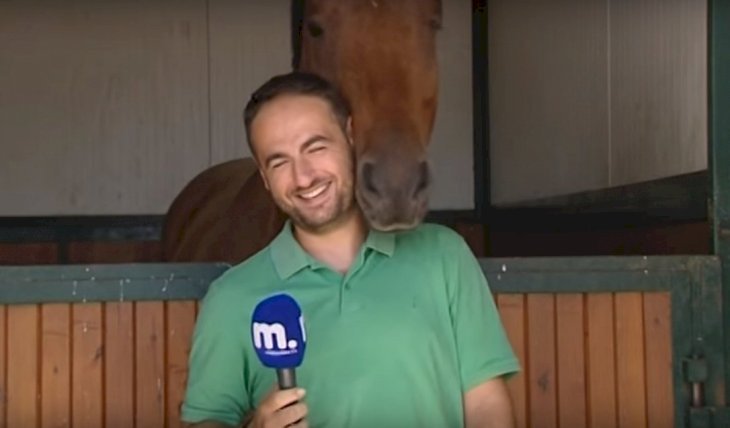 According to ShareTap, the reporter excitedly told the cameraman, "I want this footage!" 
Throughout the silly interaction, the man managed to remain calm, allowing the friendly horse to do as it wished.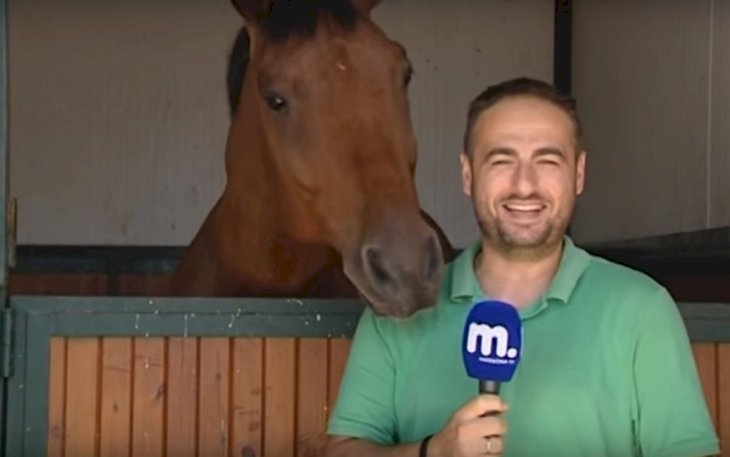 Horses are highly intelligent animals and can read human behavior very well. So it worked in the man's favor that he was able to keep his cool and even enjoy Frankie's pestering. 
Source: YouTube/ Kostas Arvanitidis
The instinctive creatures also use their intelligence to get through dangerous situations. 
The wild horses that roam North Carolina's Outer Banks were able to ride out Hurricane Florence earlier this month. 
According to Better Homes & Gardens, the horses were unscathed when Cape Hatteras National Seashore and the Corolla Wild Horse Fund checked on them after the hurricane.
Meg Puckett, herd manager of Corolla Wild Horse Fund, said that the horses traveled to elevated grounds and stayed together during the heavy rains and strong winds.
Back in July 2016, one horse didn't know he was being filmed, but he got an audience of cattle in a field nearby. And so he put on a show. 
The Ster Friesian horse named Koning started off with a little trot, which got the cows' attention. They lined up to see what more was to come. 
Source: YouTube/ Tara
Then, Koning gave the cows a show, trotting in a circle quite similar to a typical horse performance. 
He continued for a while until he seemed to grow weary of putting on the display. Then he approached the cameraman who promptly ended the clip.