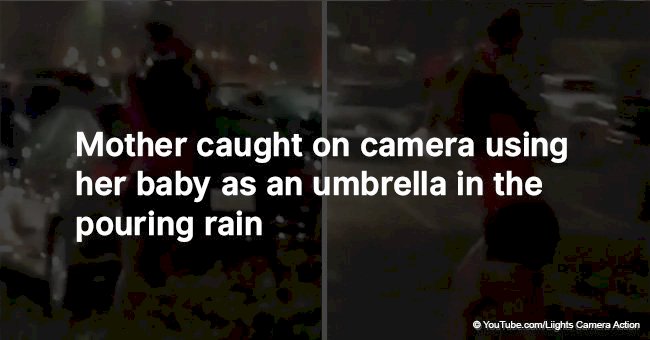 Mother caught on camera using her baby as an umbrella in the pouring rain
A Twitter user named Austin Sims posted a clip on 24 February, after all, it's not every day you see a woman using a child as an umbrella.
During a rainstorm at night, a woman is spotted running across the road carrying a little girl above her head, shielding her from the rain. Believed to be in Baton Rouge, Louisiana, but not confirmed. The identity of the woman carrying the child or her relationship to the child is not known.
She ran across the road seemingly looking from something hesitating, only to run back to where she came from, all while keeping the little girl hoisted above her head to shield from the rain. The clips have had close to 5 million views on Twitter with mixed reactions posted from viewers.
Read more on our Twitter account @amomama_usa.
One tweeted:
"If you can't use your kid as an umbrella, then why even have a kid? I sympathize with her and applaud her forward thinking"
Another user commented:
"Wait... she's protecting her hair with who she's supposed to protect!?????"
An upset tweeter wrote:
"So instead of covering the baby's head, she just gone cover her head with the baby? That is the most backward thing I've seen today."
Whoever the mother is, she is still responsible for the welfare of her child, just like in the case with Kawtar Afiri from Montreal, Canada when she went to pick up her daughter from daycare last Friday. She arrived around 5:40 pm at Kids & Company, a private daycare in downtown Montreal, and found her daughter alone outside in the rain.
To this, the manager offered free months in another location but Afiri requested they send a letter out to all the parents explaining what happened. Which they refused to do.
In Chicago 2015 another daycare center left a toddler abandoned. Cornelius Jones went to the center to pick up his 1-year-old daughter when he noticed the door closed and lights off after many attempts at opening the door failed he heard his daughter Journee crying inside and called 911, followed by a call to his wife Quanesha Borum.
The fire department arrived shortly after and broke down the door. The toddler was found crawling around on the floor inside unharmed. The daycare director, Tommie Butler did not appear on camera but admitted to the accident saying that the person in charge confirmed all the children had been picked up, and allegedly thought Journee was a doll.
Please fill in your e-mail so we can share with you our top stories!