After a 17-year-old gymnast performed this dangerous but charming trick, it got banned
Gymnast Olga Korbut was only 17 years old when a daring move was named after her, but the "Korbut Flip" has been banned since then. 
She won three gold medals and one silver medal and stunned the judges with her backward aerial somersault on the uneven bars back in 1972. 
Read more on our Twitter account, @amomama_usa. A short video clip of her spectacular feat can be seen below. Korbut joked: 
"I can't believe I did it like that. This girl is good!"
Since the seventies, other gymnasts have tried to master the technique, but none have been able to execute it as flawlessly as Korbut. 
Korbut, who only stood 4 feet 11 tall, stood on top of the highest bar and dived backward to ricochet off the lower bar. 
She then bounced back up to the upper bar, grabbing it from behind. The announcer and judges had never seen a move like that before. 
She got a 9.8 score, and some of the spectators were furious, yelling down from their seats that the judges could have given her a higher rating.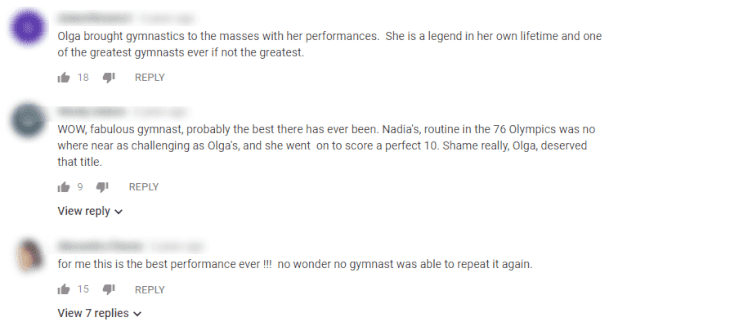 That move, coined the Korbut Flip, has since been banned as it involves standing upright on the higher bar, and is considered too dangerous. 
Korbut, who is originally from the Soviet Union, moved to the states during the eighties and had to sell the medals at one point to make ends meet. 
Back in 2001, Korbut​ ​​​​​​fell behind on her mortgage payment after her divorce and bailiffs searched her valuables to offset her debt. 
She had to shoplift groceries the following year and was arrested when fake bills were discovered in her possession. 
Korbut sold her medals in 2017 for more than $300,000 at Heritage Auctions, and while the rumor mill reported that it was to "save her from hunger," her spokesperson denied such claims:
"She's fine financially. She just wants to pass on the medals to people that will enjoy them, celebrate her accomplishments, things like that."
.@uclagymnastics @katelyn_ohashi's Michael Jackson routine is everythingggggg 🔥🏆https://t.co/2e1P1y1TH2 pic.twitter.com/boUozBZ36W

— CheerTheory (@CheerTheory) March 28, 2018
Another gymnast who made headlines recently was Kately Ohashi when she executed her floor routine at the 2018 Pac 12 Championships to Michael Jackson's songs. 
Her set included "The Way You Make Me Feel" and "Wanna Be Startin Something," and the 21-year-old got a standing ovation from the audience.
She also competed in her first elite meet in Des Moines, Iowa. Read the full account here.