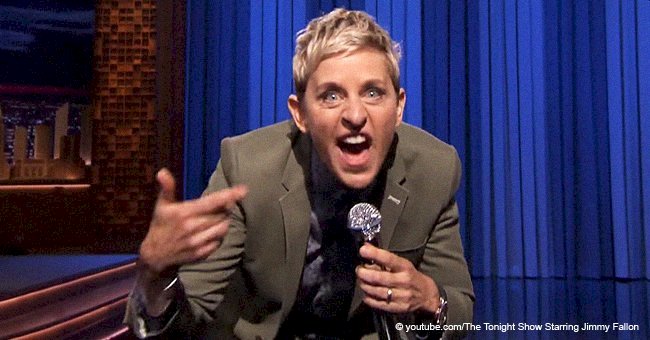 Remember how Ellen DeGeneres performed one of the most excellent lip sync battles ever
Ellen DeGeneres and Jimy Fallon are two of the most recognizable faces on television, and their lip-sync battle from back in the day is still highly entertaining.
DeGeneres is used to welcoming guests on her show, but this time she played that role when visiting Fallon on the Tonight Show.
As usual, Fallon had a game ready for his guest to play and DeGeneres had the opportunity to face her fellow host in a lip-sync battle that set the internet on fire.
Follow us on our Twitter account @amomama_usa to learn more.
The daytime TV personality is famous for her dance moves and her ability to entertain audiences all over the world with her energy and good mod.
When Fallon suggested the lip-sync battle, DeGeneres didn't think twice, but there was a surprise in store: the judge of the battle would be Justin Timberlake.
The musician sat with the band and watched the two hosts give it all they had as the music played in the background. The first one was Fallon.
The host started his performance to the sound of the Killers' "Mr. Brightside," but he was so worried about DeGeneres' talent that he tried to bribe Timberlake.
After his first tune, Fallon walked up to the judge and gave him some money, telling Timberlake 'take care of yourself - don't worry about it,' a moment that caused quite a lot of laughs.
Fallon then changed his style for a rap approach, which was also followed by DeGeneres, but not before she stole the show with a rendition of Diana Ross' "Do You Know Where You're Going To."
Ultimately, DeGeneres was declared the winner and the audience supported the decision. The host is beloved by the American people, who fell in love with her personality over the years.
Back in March, the host proved that she is not afraid of showing her off-camera side by appearing in a photo without any make-up on, which sent her fans into a frenzy.
Please fill in your e-mail so we can share with you our top stories!