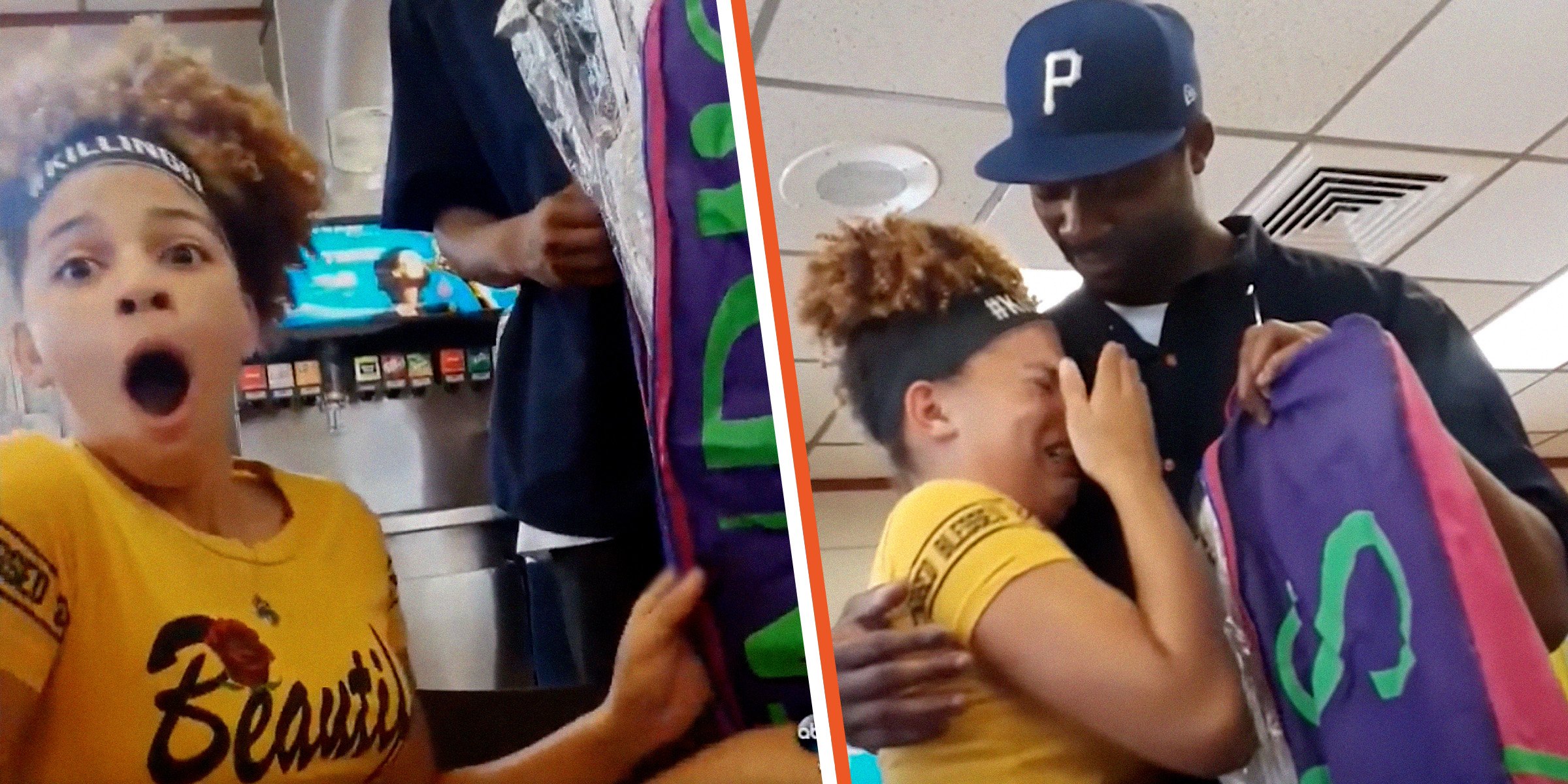 facebook.com/BibleSeries
Dad Can't Afford Daughter's Graduation Dress, Works Tirelessly at His 3 Jobs to Surprise Her with It
A girl who wanted a particular dress for her eighth-grade dance let her parents know, but it came with an expensive price tag that her struggling parents could not afford.
This is the story of how her father pushed himself so that he could put a smile on her face, showing the world how satisfying it is to make one's child's dream a reality.
Nevaeha Smith went window shopping for a dress she would wear to her eighth-grade dance at Ringgold Middle School in Monongahela, Pennsylvania, in 2018. She had hoped to find something her parents could easily afford. The dress that drew her eyes came with a $200 price tag. It made her uneasy, but in faith, she revealed her desire to her parents.
HER FATHER MADE NO PROMISES
Nevaeha's father, Ricky Smith, was an average man who worked at McDonald's, Popeye's, and a Circle K convenience store in Monongahela, Pennsylvania but still had problems making ends meet.
That's why he was a bit reluctant to indulge his daughter when she came home to tell him and his wife that she had found the perfect dress to wear for her 8th-grade graduation and that it was worth $200. "Mom, Dad, I want this dress. Is it in our price range?" she asked.
Smith's heart sunk at the price because he was well aware of his own limitations, but he told her, "Uh, not really sure, but I can see what I can do."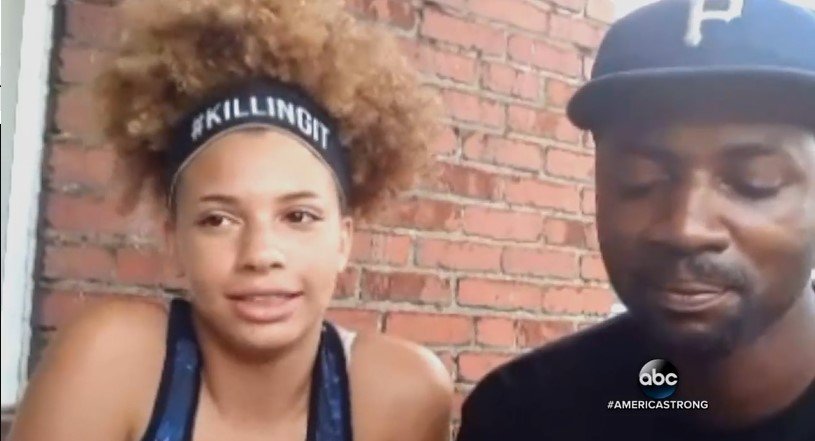 Picture of Nevaeha and her father, Ricky Smith | Source: Facebook/ABC News
COME HELL OR HIGH WATER
A practical man who knew how easy it could be to disappoint given his station in life, Smith made no promises to his daughter; however, he worked hard toward saving up for the dress anyway.
He already worked six days a week but started taking extra shifts at his three jobs. He would even go as far as working seven days per week, sacrificing his personal well-being and risking burnout to get enough money to buy the two-piece floral dress.
His hard work paid off in the end, and he could purchase the exact dress his daughter had pointed to, but the first person he told was his wife, Kelly Anne, who urged him to surprise the girl with it. She told him, "Why don't you surprise her?"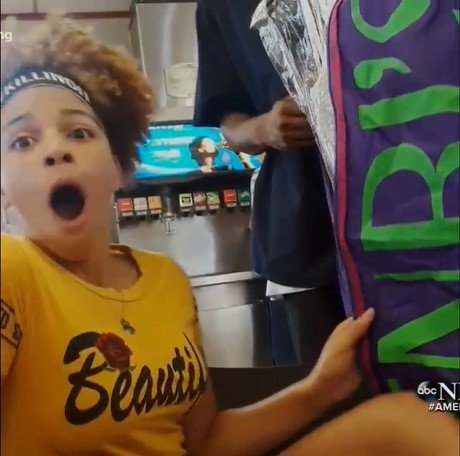 Picture of Nevaeha getting surprised her father's dress gift | Source: Facebook/ABC News
A VIRAL VIDEO IMMORTALIZED THE REVEAL
Smith decided to take his wife's advice, but he took it one step further by asking his daughter to stop by his workplace at McDonald's. Her mother joined the unsuspecting child with a camera, ready to document the revelation. He told ABC News:
"I was working at McDonald's that day and I put the dress in the back."
When Nevaeha and her mother arrived, Smith brought out the dress, cloaked within a garment bag, and told her that her grandmother had purchased it for her. "This ain't the dress you wanted, but I hope you like it," he said.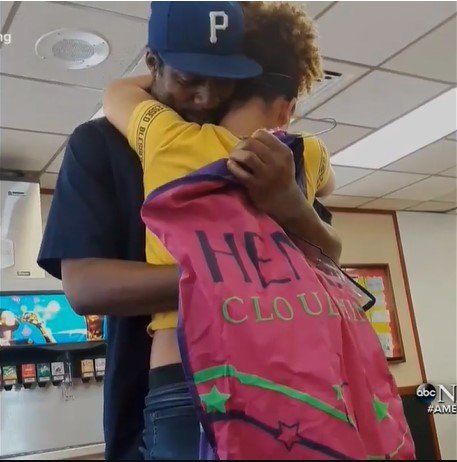 Picture of Nevaeha hugging her father, Ricky Smith | Source: Facebook/ABC News
Nevaeha's heart had sunk when she heard that her granny had purchased the dress because she thought she was about to get an "old lady dress." Her father admitted that it was not the dress she wanted, which did not help matters.
The video her mom made captured Nevaeha sitting at a table at McDonald's as her father walked up to her with the garment bag,.
Even though the footage caught her reaction, one can only imagine how she really felt when her father carefully unzipped the purple bag and pushed one flap aside to reveal her dream dress.
It took a few moments for the stunned Nevaeha to get over her shock, but when she did, she jolted up from her chair and ran right into her father's arms, hugging him as tightly as she could with tears of joy streaming down her face. Smith said:
"To see the look on her face it was priceless. All I can really do was smile."
The footage that went viral immediately after it hit the web captured Neveaha's teary face as she tried to express her gratitude to her dad. "It's the dress!" she shouted. Describing the moment later on, she said:
"My heart felt like there was more love in it than there was before, I love him and I'm really happy that's he's my father."
Thanks to his sacrifices, she turned up at her dance in the dress she would always treasure because it represented her father's love.
Smith proved that a father's love for his child is all-sacrificing and knows no bounds, something his daughter will never forget. Did you like the video? If so, share this story with all the devoted and all-sacrificing parents you know.
Please fill in your e-mail so we can share with you our top stories!