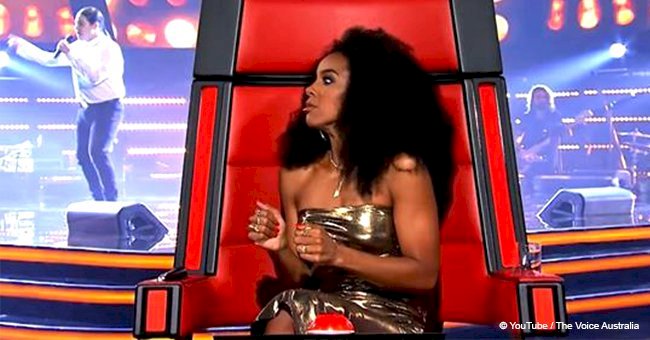 Unusual timbre of young 'Voice' contestant totally confused the judges
How the youngest contestant on The Voice Australia won over the judges before he could even finish his audition.
Leo Abisaab, a 15-year-old from Marsden High School was nervous after sending his audition tape to The Voice Australia. A few days later he received a phone call informing him of his selection to perform in the blind auditions on television. The youngest ever to audition on The Voice Australia he chose a song from Aretha Franklin, 'Chain of Fools.'
Source: YouTube/The Voice Australia
Leo took the stage and when he sings the faces of the judges flush with interest and surprise. The judges' hands hovering over the red button listening to this youngster belt out 'Chain of Fools' with confidence and talent, the audience rising to their feet.
Source: YouTube/The Voice Australia
Midway through his performance two of the judges commit, wanting him on their team. Delta Goodrem and Boy George had a quick squabble over who could convince Leo they were the right fit.
Blowing away the judges with his performance both Delta Goodrem and Boy George press their buttons and Leo has to decide which team to go with.
Source: YouTube/The Voice Australia
Recently, another contestant stunned the judges on The Voice of Holland Senior when René Bishop from Willemstad, Netherlands Antilles performed 'Unchained Melody', and won both judges and audience over with his amazing performance.
Source: YouTube/The Voice of Holland
Both Bishop and Leo Abisaab got the judges attention after barely starting their performances.
Leo, singer for 12 years, songwriter and DJ said:
"I wasn't expecting one chair, let alone two. It was hard to choose. I could tell they were both passionate about the show and helping artists. I've watched Delta on every season but, at that moment, I felt like Boy George could offer me more."
Source: YouTube/The Voice Australia
He went backstage to his parents after choosing Team George and said:
"Mum was crying. Any time she cries, it makes me cry. It means a lot to make my parents proud."
Feeling a mix of emotions as reality sunk in he commented that his audition was all a blur, having waited for an opportunity like this his whole life and gravitating to soul music allowing him to put all his emotions into his performances. Amazing talent has recently featured in The Voice, represented from different countries.
Another talent from The Voice Holland, 36-year-old Amsterdam actor, Charly Luske performed James Brown's, 'It's A Man's World' and it only took a few seconds for all the judges to turn their chairs, wanting Charly on their respective teams. The Voice offering a feast of talent this year.
Please fill in your e-mail so we can share with you our top stories!