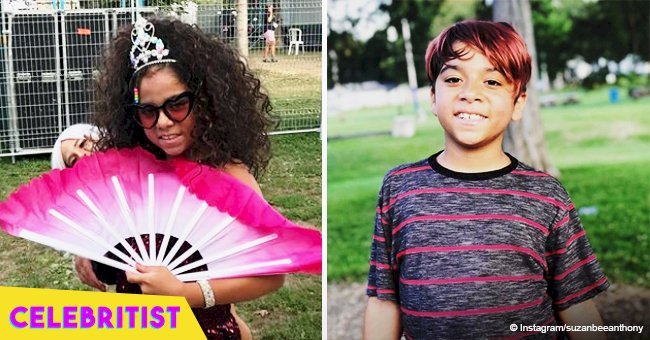 11-year-old drag queen goes viral with his impressive costumes and wigs in pics

Jason Thomas Kerr became an internet sensation thanks to photos and videos showing him in colorful costumes and wigs. As with everything else, that attention came at a cost, but the 11-year-old doesn't mind.
Jason from Missouri began dressing up as a girl from the age of three, wearing full makeup and wigs with the help of his sisters.
When Jason confessed his fascination with drag, his parents, Victoria and Greg, gave him their full support.
CREATE YOUR HAPPINESS
For Victoria, a preschool teacher, all that matters is her kids' happiness and fulfillment, and she realized drag does that for Jason.
"He loves doing drag, and it gives him so much confidence. There is definitely a difference between Jason and Suzan Bee," she said, referring to Jason's drag alter ego, Suzan Bee Anthony.
Victoria continued:
"Jason tends to be a little shy but then it's like flipping a switch to Suzan Bee, he has more confidence and is very sassy."
"Seeing the change in him and how happy he is, makes my heart burst with happiness."
"It's so exciting seeing him perform, he can get up there and do what he does. It makes us feel happy as a family watching him strut his stuff."
THE BEST SUPPORT SYSTEM
Jason's parents revealed that drag is now a "family affair," as Jason's teenage sisters, Olivia and Trinity, pitch in with selecting outfits and applying makeup to transform their brother into a colorful queen.
Jason now boasts of a 25-outfit wardrobe which includes tutus, pink print, jewelry, feather boas, sequins and much more.
Victoria explained that since starting drag, Jason, who came out as gay at age 10, has received support from a lot of people.
"Young gay people and drag queens come up to us and say they wish they could have 'came out' in their younger life like Jason," she shared.
FACING TROLLS AND BACKLASH
Sadly, not everyone has nice things to say about the pre-teen. Victoria, who insists she's proud of her son, said there had been a couple of negative comments, especially from religious folks.
"We've had bible verses quoted to us on Facebook, I normally block them and don't even dignify them with a response. I don't want them to have power."
"Every year at pride there is a minister who tries to get confrontational, he thinks 'they are all going to hell.'"
Despite the critical remarks, Jason's family is prepared to stand by him, come what may. His mother is committed to creating awareness and changing people's perception of drag.
"I love sharing what he does, we live in the middle of a bible belt state, so some people are closed minded to gay and drag culture," she shared. "If it takes talking every day talking about this to open more minds, that's fine with me, and that's what I'll do."
So far, Jason has performed as Suzan Bee for projects to raise funds for the Aids Foundation and at multiple Pride events from Oklahoma City to Montreal and others.
The youngster credits RuPaul, Lady Gaga, Meghan Trainor and his 'drag granny' Ruby Diamond as some of his biggest inspirations.
IN TOUCH WITH THEIR TRUTH
Jason is part of a growing drag culture that includes other young boys as he. 11-year-old Leo is another example of an empowered pre-teen living his truth.
His mother, Lauren Noakes, tried for a long time to suppress her son's love for feminine clothes, shoes, makeup, etc., but the more she did, the more Leo fell in love with them.
Eventually, Lauren let Leo wear the clothes he wanted and recalled seeing him light up. "I knew he'd found his true identity," she said.
Please fill in your e-mail so we can share with you our top stories!