Watch Bill Murray unite with The Steeldrivers and John Prine for an amazing singing performance
Last Tuesday, Bill Murray made his Grand Ole Opry debut when he surprised the audience by joining The Steeldrivers and John Prine onstage. 
The Steeldrivers first thrilled the audience by bringing in John Prine as a special guest. Little did they know they were in for another shocker.
Before they started playing Prine's 1971 hit, "Paradise," the banjo player, Richard Bailey, announced that another guest was behind the scenes waiting to come out. 
The video is found below.
Follow us on Twitter for more @amomama_usa.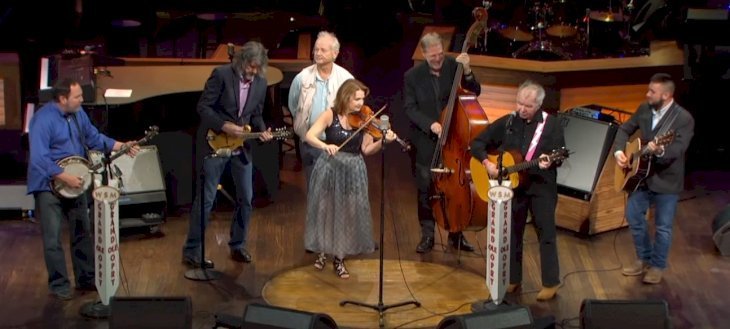 When Murray walked onstage, the crowd started screaming as he joined the background vocalists. 
According to Wide Open Country, The Steeldrivers and Murray built a friendship when the bluegrass band appeared in 2009's film "Get Low" with the actor.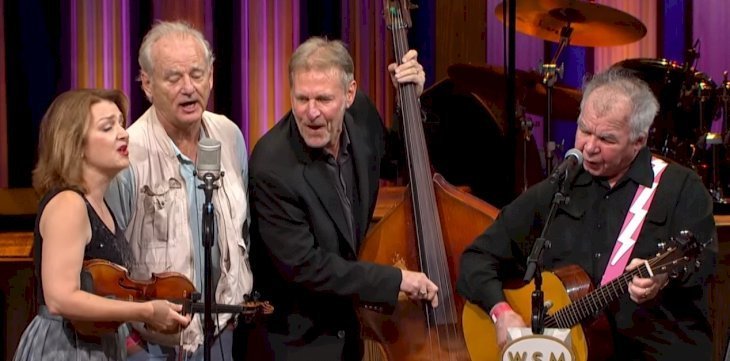 He strolled in wearing a blue shirt underneath a cream vest and stood next to bass player Mike Fleming and fiddler Tammy Rogers.
In between his singing of the chorus, Murray spoke into the mic to let the audience know, "This is my first appearance at the Opry."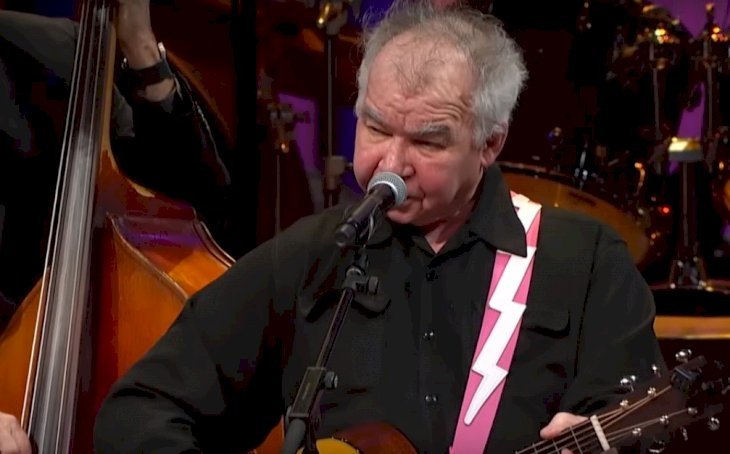 Before making his debut with the group, Murray was a fan and supporter since the time when Chris Stapleton was a member.
Just last year, Murray bought several tickets for a Steeldrivers concert in Charleston, South Carolina to distribute to fans in front of the theater before the show.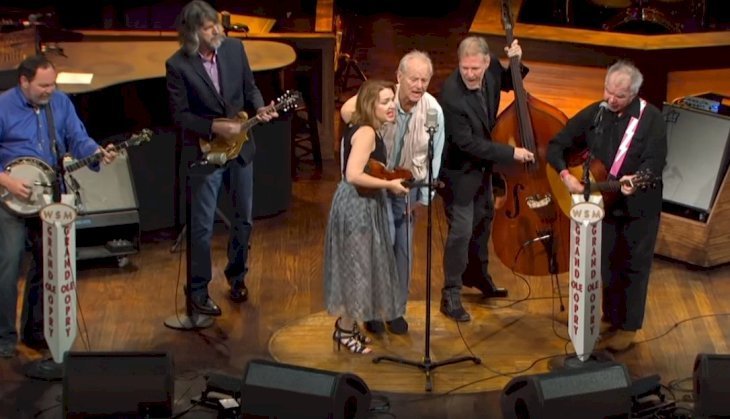 Murray actually credited Prine back in late 2017 with getting him through a tough time through his song "Linda Goes to Mars from Prine's album "German Afternoons." 
"That was the beginning of the return," he said. "I thought, 'Huh, it just happened.' That was a great day so I owe you one." 
The 68-year-old is a long time country music fan, known to show up randomly at shows. 
Five months ago, he popped onstage with Chris Young to help perform Marty Robbins' "El Paso."
Murray is also a gentleman to fans, opening the car door for arrivals and taking photos at the Nashville International Airport a few days before his appearance at the Opry. 
Prine is slated to headline two nights at the Ryman Auditorium, the previous home of the Opry, on October 5 and 6. 
At year-end, he will perform a New Year's Eve special with Nathaniel Rateliff and the Night Sweats back at the Grand Ole Opry House. 
Meanwhile, The Steeldrivers are touring the United States until May 2019. 
In early September, Prine received the award for Artist of the Year at the 2018 Americana Honors & Awards.
And back in June 2018, Murray was invited by George Clooney to attend his AFI Life Achievement Award Tribute.
Amal and George Clooney at American Film Institute Life Achievement Award in Hollywood on Thursday night. pic.twitter.com/vNFBkliD75

— Amal Clooney Style (@Amal_Style1) June 8, 2018
Others in attendance included Cate Blanchett, Jimmy Kimmel, Courtney Cox, and Jennifer Aniston.