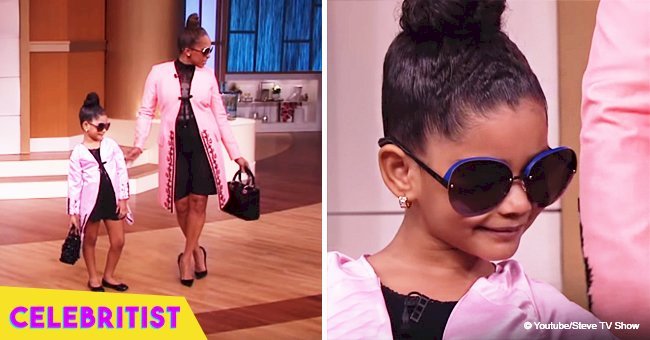 5-year-old girl meets her icon Marjorie Harvey in video from 'Steve TV Show'
Steve Harvey, best known as one of the Original Kings of Comedy, took to his show, "Steve TV Show," a little girl who was a huge fan of his wife, Marjorie.
In the video of the segment, uploaded in 2015, the host revealed that his wife had created a website titled "The Lady Couture" that had attracted more than 75,000 subscribers and more than one million views at that point.
Steve revealed that the blog was about her love for fashion and that it had inspired several people of all ages. The guest for that segment was one of them.
While several photos of Marjorie and the girl copying her style were portrayed in the screen of the show, Steve welcomed his wife's "littlest fan," then-five-year-old Hailey.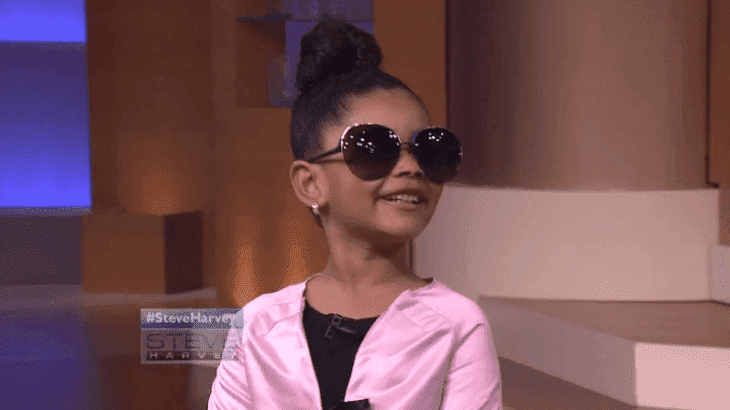 Source: YouTube/Steve TV Show
SHOWING OFF HER GLAM
The girl made her appearance in a stylish knee-length pink coat worn over a black dress. She accessorized with a matching black bag and a pair of flats.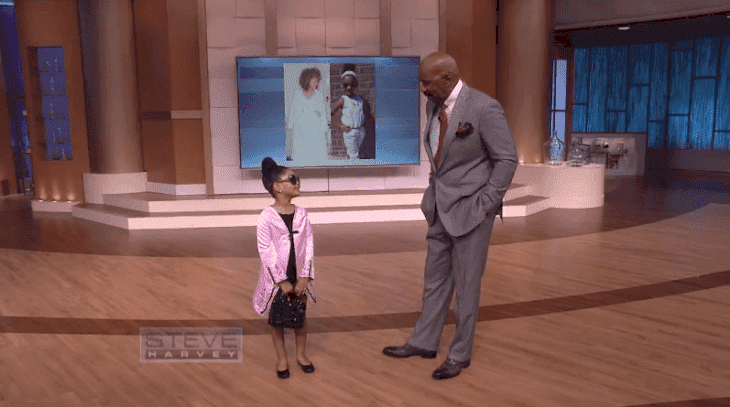 Source: YouTube/Steve TV Show
Her hair was pulled up in a neat bun, and oversized sunglasses completed the elegant ensemble. Steve asked Hailey what were her favorite clothes to wear, and the girl revealed she liked skirts, high heels (a lot of them), and dresses.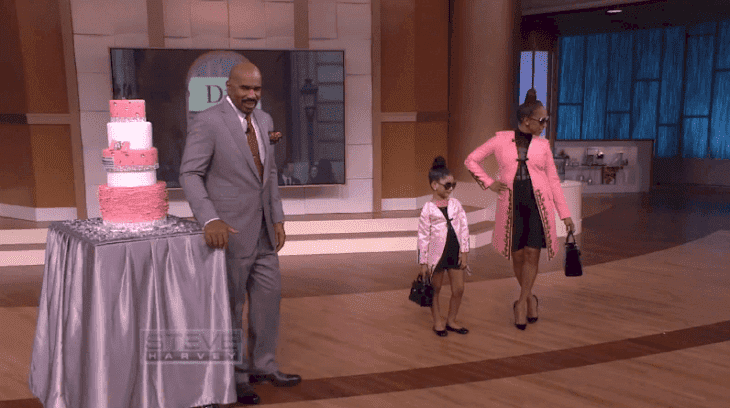 Source: YouTube/Steve TV Show
JUDGING STEVE'S CLOTHES
The host asked Hailey's opinion on his clothes, but the girl pointed out that she didn't like "boy clothes" but that he was "okay." Later, when Steve learned that Hailey's birthday was the day after that show, he said that there was a surprise for her.
SURPRISING HAILEY
From behind the studio, Marjorie appeared pushing in a huge birthday cake. As soon as Hailey looked that her icon was there, she pretty much ignored the cake for a while and jumped to Marjorie's arms. After posing for a couple of pictures, the girl wondered if she could play in Marjorie's closet, and the woman said, "that's a date."
COMPARING STEVE WITH HIS GRANDCHILD
Marjorie is not the only member of the Harveys family who has been compared to children as Steve recently uploaded a photo of his 5th grandchild, Ezra, and people couldn't help but compare both of them.
Some users pointed out that Ezra's resemblance to his famous grandfather was uncanny and that he had inherited Steve's lips.
Others pointed out that they looked so similar that the only way to differentiate them was Steve's worldwide known mustache.
CHANGING HIS APPEARANCE
Recently, Steve surprised the world by modifying his style a bit. He showed up for an interview with ET Online with a full salt-and-pepper beard and a thinner mustache.
The 61-year-old host confessed that, since he was launching a new season of his daytime talk show titled "Steve," he had to reinvent himself.
Please fill in your e-mail so we can share with you our top stories!