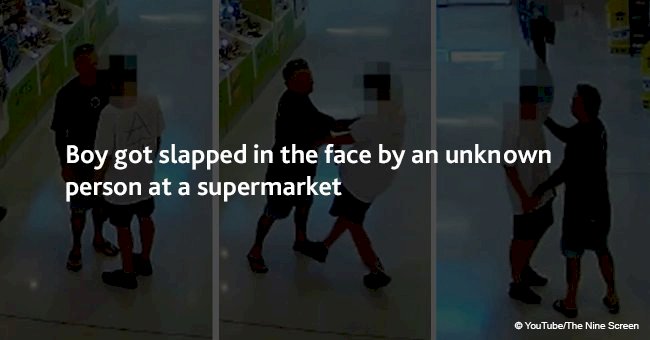 Boy got slapped in the face by an unknown person at a supermarket
Queensland Police requests anyone with information pertaining to the video to please contact them.
About 2:40 pm last Monday in Kawana Shoppingworld a 15-year-old teenage boy is seen walking with two other friends through the mall when a man approaching from the opposite side confront him.
THE CONFRONTATION
Source: YouTube/The Nine Screen
The man blocks the teenager from bypassing him a few times and judging by the unnamed man's body language he was acting in an aggressive and intimidating demeanor. Suddenly he shoves the teenager who almost falls over.
Source: YouTube/ The Nine Screen
Read more on our Twitter account @amomama_usa.
The teenager finds his balance, but the man approaches him again, this time slapping him through the face before walking away, The teenager waste no time in walking in the opposite direction at the man's departure although his disbelief in what just transpired was clear. The teenager suffered a minor injury to his mouth as a result of the attack.
Source: YouTube/The Nine Screen
Police said:
"The Sunshine Coast teenager was walking with friends through Kawana Shoppingworld when unexpectedly approached by a stranger who began making threats and telling him to move out of the way."
WHAT THE SUSPECT LOOKS LIKE
Source: YouTube/The Nine Screen
The police are looking for a Caucasian man, around 182cm tall, aged 40 - 50 years, gray hair, tattoos on his arms and legs.
They released this video hoping someone may recognize the man. Anyone with information is encouraged to contact Crime Stoppers on 1800 333 000 or use the online reporting page.
INFORMATION REQUIRED ABOUT ANOTHER INCIDENT
Authorities are asking for information about another attack, an 87-year-old man was attacked around 4 pm in Hastings last Saturday in the Countdown carpark on the corner of Queen Street West and King Street North. Several offenders involved as they forced him into the back seat of his car and drove around until money was drawn out of his account from multiple locations. The man is recuperating at home after injuries sustained.
The robbers are described as a young man and a 50-year-old Māori woman with straight black shoulder-length hair.
Source: Supplied / Police . Police want to speak to anyone who has information or may have seen the victim's car (pictured) being driven around Hastings between 3.55pm and 4.30pm on Saturday
Police recently divulged important information regarding Mollie Tibbets' murder. They took the suspect Cristhian Bahena Rivera, 24, Mexican national, into custody and shortly after he was charged with first-degree murder. Once in police custody, he shared details of the murder, and if convicted Rivera will face life imprisonment, under Iowa state law.
Please fill in your e-mail so we can share with you our top stories!