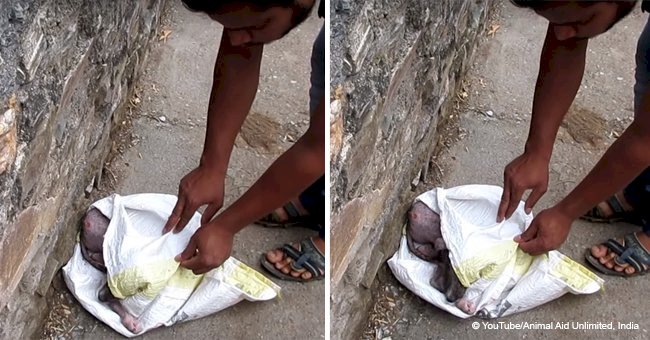 Rescuers find a whining creature inside a bag and are horrified at its condition

A little puppy was found stuffed inside a plastic bag and left to die of his injuries on the streets.
Animal Aid Unlimited rescuers in India came across a heartbreaking situation in the course of their work rescuing and treating the millions of un-owned street animals in India.
The animal they found was huddled inside a plastic bag and was unidentifiable as a cat or a dog. It was so frightened and sick it cried out if the bag was touched.
The rescuer's incredible work to save this animal was documented and posted on Youtube/Animal Aid Unlimited, India, on September 7, 2018 and has garnered over 11,000,000 views.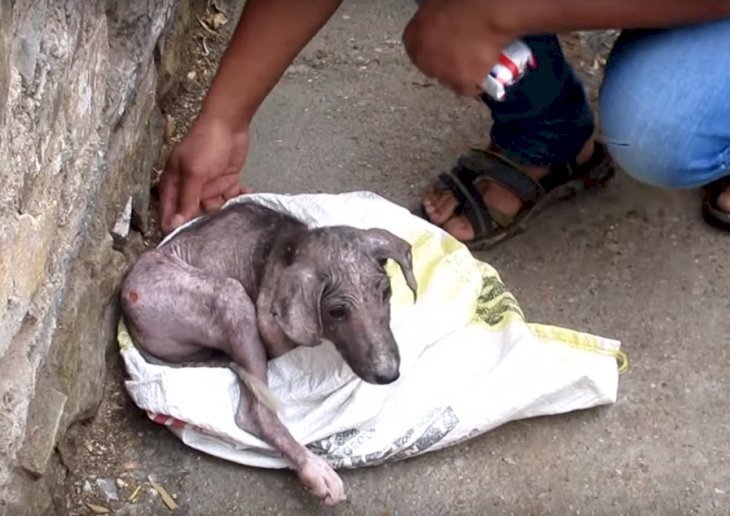 Source: Youtube/Animal Aid Unlimited, India
"We got a call to rescue a very sick street puppy. We found him hiding in a plastic bag, and the moment we touched the bag he screamed in pain. (...) He had severe mange and a deep wound on his hip that was causing him the shooting pains every time he moved."
Animal Aid Unlimited, Youtube/Animal Aid Unlimited, India, September 7, 2018.
STARVED AND SICK WITH MANGE
Rescuers managed to coax the starving puppy out with biscuits and discovered that is was afflicted with mange and had a deep wound on one hip.
Mange is a skin disease caused by parasitic mites which causes severe itching, hair loss, and the formation of scabs and lesions all over the afflicted animal's skin. This disease can sometimes debilitate animals to the point of death.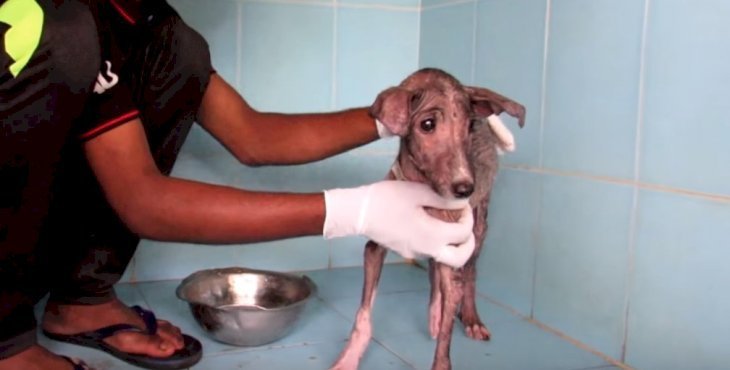 Source: Youtube/Animal Aid Unlimited, India
TREATMENT AND A SLOW RECOVERY AT ANIMAL AID
At Animal Aid, the puppy was observed by a vet, give vitamin shots and vaccines and treated for the mange with skin lotions and baths.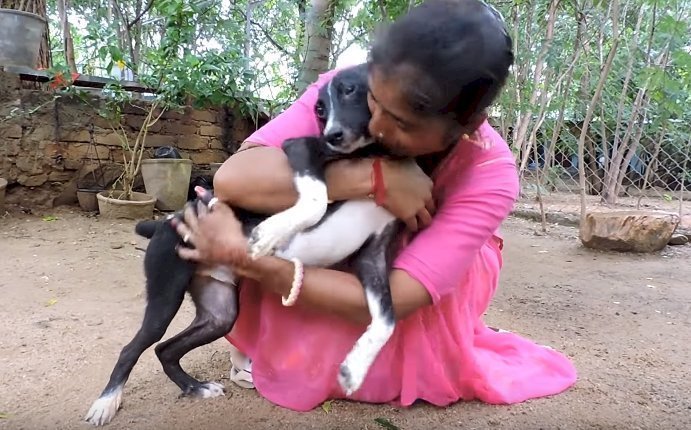 Source: Youtube/Animal Aid Unlimited, India
AN IMPORTANT PART OF THE TREATMENT: LOVE AND KINDNESS
Six weeks later, well fed and cured of the mange, the puppy now called Jumper is unrecognizable. He is an energetic, bouncing bundle of mischief - playful and affectionate like every puppy should be.
CARING FOR THE HELPLESS AND THE HOPELESS
Far away, on the other side of the world, a lady called Melani Andrews is doing for a 12-year-old terrier called Jake what Animal Aid did for Jumper.
Melani, 72, had just lost her beloved pet and believed that caring for an animal in need would help to heal her grief.
She went to Front Street Animal Shelter and asked for their oldest, sicked, most hopeless dog. And that was Jake, who was suffering from skin cancer, in addition to all the usual ailments characteristic of old age.
Melanie is making Jake's last days comfortable and happy and filled with love, and filling her own life with new meaning.
Please fill in your e-mail so we can share with you our top stories!