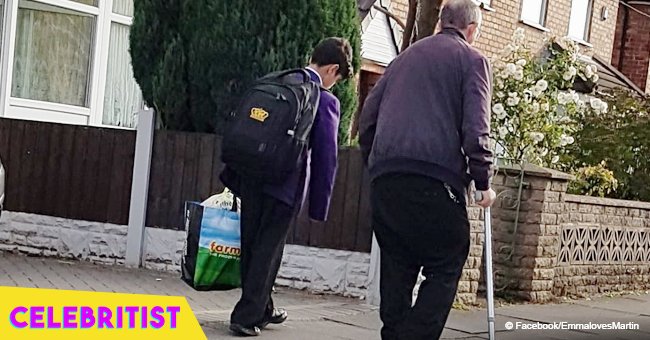 Heartwarming photo of schoolboy carrying pensioner's shopping bag goes viral
A schoolboy goes out of his way to help an old man in a photo that's now gone viral. The boy offers to carry the man's shopping bag to the delight of many who witnessed the boy's selfless show of kindness.
On this day and age when children are preoccupied in the digital world, a young boy from West Midlands stands out. He was carrying a backpack while walking in the street when he spotted an old man using a crutch carrying a large shopping bag.
In a touching moment, the boy offers to carry the old man's shopping bag as bystander Emma Cope witnesses it. She immediately snaps a photo of the boy's heartwarming gesture and shared his story online.
The 28-year-old who was moved by the boy's kindness praised him as well as his parents for bringing up a "polite and caring lad." She wrote,
"As I was getting out my car today In kingstanding, I heard this little boy say to this old man, can I help you carry your bag, to the man's delight he said oh yes please.. the old man walked slow and the little boy walked beside him and carried his bag!! The parents of this young man should be so proud as you have obviously brought up a polite and caring young lad! Please share this to show that kindness is still out there!!"
The post encouraged a lot of users to comment and hail the boy's parents for raising a caring son. It earned over 26,000 shares at the time the photo went viral. If anything, the little boy showed that kindness still exists in this world and that we should all strive to be kind to one another much like a couple of sixteen-year-olds who also showed compassion for a pensioner who they saw lying helpless in his garden.
98-year-old Dr. Lex Turner fell and hurt his head in his garden and was unable to get up on his own. For about ten minutes Turner waited until someone would pass by his home so he could call for help. Then he heard a group of kids walking by and yelled for assistance. All eight of them came to his rescue to help get him inside. The two boys, Aiden and Harris Macintosh lifted turner and brought him to the kitchen before sitting him down. They even gave him a glass of water and offered to call an ambulance but Turner refused. Dr. Turner later reunited with the two boys to thank them for their kindness.
Meanwhile, another young boy used music to deliver his act of kindness. He found out his friend who just moved into his school was being bullied and wanted to do something to cheer her up and assure her that she wasn't alone. So he asked his mother to drive him to her house so he could serenade her with a song. Playing Bruno Mars' song, "Count On Me" on his mother's car stereo, the young boy sang along to the delight of his friend. They hugged it out proving his efforts to cheer up his friend paid off.
Please fill in your e-mail so we can share with you our top stories!