Parrot emotionally 'grieves' for his dying owner and hears her last words of love
Humans are not the only creatures that experience the pain of a loss, animals also suffer it.
An African gray parrot named Simbad spent 25 years next to his owner and when he was about to lose her, his last goodbye was captured on video that is now viral.
As reported by Apost, anyone who has had a pet can ensure that grief is not something that is limited to humans.
Dogs, in particular, are known to show their pain in a way very similar to that of people, while cats also live it, but they do so in a more silent and discreet way. Read more on our Twitter account @amomama_usa
Whatever the type of animal, there is a link between it and its owner that is stronger than many might think, especially when it comes to a lifetime being together, as is the case with this lady and her parrot, Sinbad; both have been friends for more than two decades.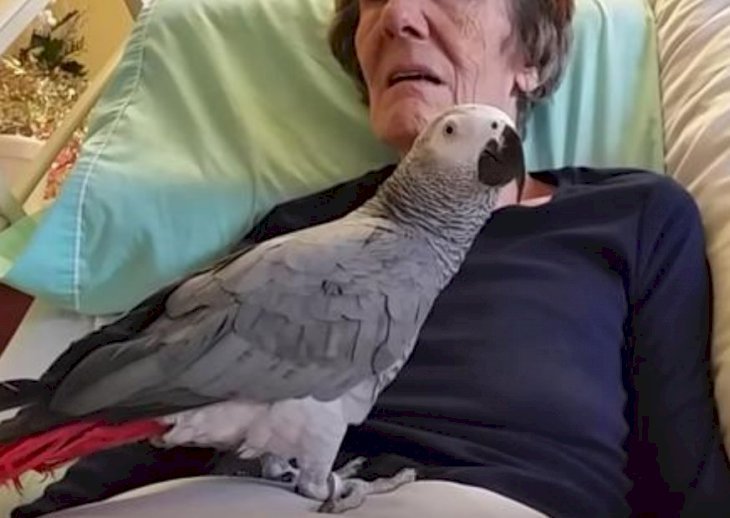 A WHOLE LIFE OF FRIENDSHIP
In the clip you can see how Simbad delicately rests on the arm of his owner, who is lying on the bed, dying. The person behind the camera explains to the lady that her dear friend is there with her. Suddenly, the bird is gradually approaching his chest.
In the background, you can hear how the woman asks the lady if she wants to say goodbye to her friend. As you can see, the old woman says to the animal in a very weak tone "I love you", while he looks at her standing on his abdomen. What a really touching moment.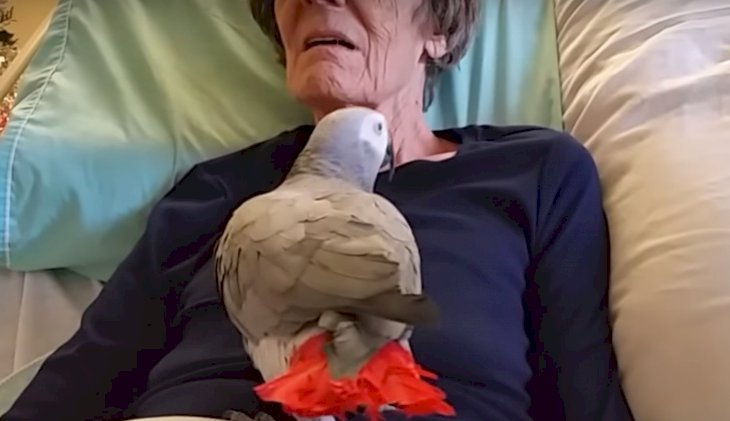 THE ANIMALS SUFFER THE DUEL AND THEY CAN EVEN GET DEPRESSED
Parrots are known to be incredibly intelligent animals, and African grays are some of the smartest. Its useful life is around 50 years, which means that they can live as much as some people.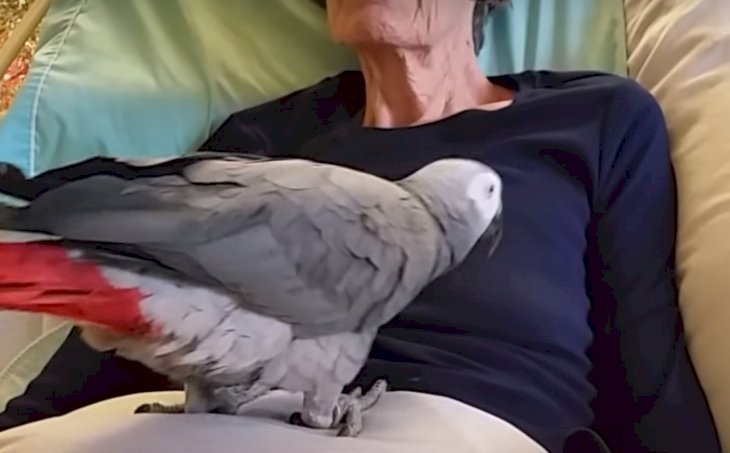 Parrots have difficulty losing someone in their flock, regardless of whether this loss occurs through migration or death. According to Western Journal, they may have violent behavior, show signs of depression and stop eating.
Some parrots even literally need antidepressants after a traumatic experience. Veterinarians sometimes prescribe Prozac for birds. These animals must go through the same recovery steps as people.
In a similar story, a dog attends the funeral of its owner after she was left devastated when her human best friend passed away without warning.
Dog Attends Deceased Owner's Funeral So She Can Say One Last Goodbye https://t.co/YvclZjk93m pic.twitter.com/aAkcFQQ4Ig

— lulu459 (@ElaineFurst) May 7, 2018
During the memorial service, people were moved when Sadie stood to see her human best friend for the last time. The dog was in so much grief that she didn't eat for 10 days and lost 10 pounds in the process.