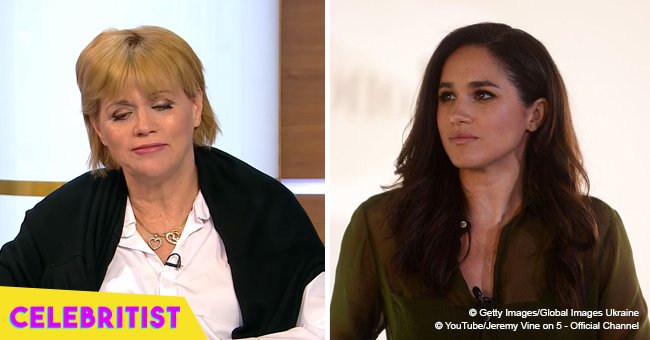 Meghan Markle's half-sister apologizes to the Duchess in dramatic interview
Meghan Markle's outspoken half-sister Samantha Markle surprises by issuing an apology during a television interview in London. She also reveals the real reason why she attacked the Duchess in the past and why she's trying to make amends today,
Following months of hate spewed towards her half-sister Meghan Markle, Samantha Markle makes a surprise move by apologizing during a recent interview in London.
Tweet after tweet, interview after interview, there was nothing but harsh words coming out of Samantha's mouth when speaking about Meghan since her royal wedding. She's accused the new Duchess of being an ungrateful daughter, referred to her as Cruella de Vil and even insinuated that Prince Harry was better off marrying his ex-girlfriend Cressida Bonas.
But that's all water under the bridge now it seems as Samantha appeared on "Jeremy Vine" with a 180-degree spin on what happened in the past. An apologetic half-sister faced the cameras that day, shedding light on the motives that drove her to bash Meghan in the past and why she's choosing to take the high road and start mending fences today.
THE REAL REASON SHE WAS MEAN TO MEGHAN
Samantha revealed she wished "things could be different," expressing remorse for hurting Meghan. She also said her animosity stemmed from her family not being invited to the royal wedding when asked what her message for Meghan was.
"There is so much water under the bridge and so much has spun out of control that was never intended to. I think everybody was hurt by not being included or invited to the wedding, but I felt as though it could have all been nipped in the bud had everyone been included and we all just agreed to move forward with positive resolve, and the hurt feelings wouldn't have snowballed."
She adds,
"But, believe it or not, it doesn't mean that we love you any less. I just think that families can be this way when there's confusion and when people are hurt. So, moving forward, I apologize and I wish things could be different."
THE TRUTH BEHIND HER AWFUL BEHAVIOR
Samantha may have turned a new leaf but viewers weren't quick to forgive her. In fact, she received a lot of harsh words from those who called in and reminded her of her awful behavior in the past to which she responded with,
"Most of what you read in the tabloids is not true. There have been so many times I've said, in live interviews, favorable things but they were not printed."
She also said the real reason she was forced to lash out on media was Meghan's seeming indifference towards their father Thomas Markle and her unwillingness to talk to them in private.
"We were hoping that private channels would be used. When they failed we went public. The goal at that point wasn't just getting closer. It was also about bringing out a very important point that you don't isolate family, you are a humanitarian."
HER MOTIVES FOR STAGING THE PAPARAZZI PHOTOS
Samantha also explained the paparazzi photos of her father which she helped stage. She said she was merely trying to defend her father from horrible representations of him by the press.
"I would regret more allowing paparazzi to continue to make him look like a horrible slob and do everything they could to disparage him. It felt] really wrong to allow that to continue."
HER THOUGHTS ON BEING SHUNNED BY THE DUCHESS
As for being shut out by the Duchess, Samantha understands that Meghan may have been hurt by all the stories coming out in tabloids twisting reality.
"I think that perhaps she was hurt – I felt like she should know better than to believe tabloids, but I think quite frankly she probably believed what she was seeing as well, and I guess there's also protocol that you say nothing. So I think that snowballed unfortunately to a lot of hurt feelings on everyone's part, and I'm hoping that we can have a happy ending."
HER HOPES MOVING FORWARD
But Samantha is hopeful that after all the misperceptions and by her clearing the air now, they could move forward peacefully. She hopes to meet with Meghan personally but is more than certain that's never going to happen.
Meanwhile, she rests in the comfort knowing Meghan has "found her prince" and "is in good hands" with Prince Harry.
WHY SHE FLEW TO LONDON
Days prior to Samantha's interview, she was reported to be flying to London hoping to have a face-to-face talk with her half-sister regarding their father's health and to finally end the animosity between them. However, that didn't happen which led Samantha to appear on TV to say her peace.
WHAT MEGHAN WAS DOING
Meghan has been quite busy the past days, having launched her cookbook and going on her first solo royal outing at the Oceania exhibition. She even caused a slight controversy when her Givenchy dress drew attention to the fact that she wasn't wearing a bra. Her bare nipples were unknowingly showing through her gown but that didn't keep her from making a flawless appearance.
It would seem Meghan's busy schedule and perhaps, hurt feelings are still keeping her from making any contact with her apologetic sister.
Please fill in your e-mail so we can share with you our top stories!