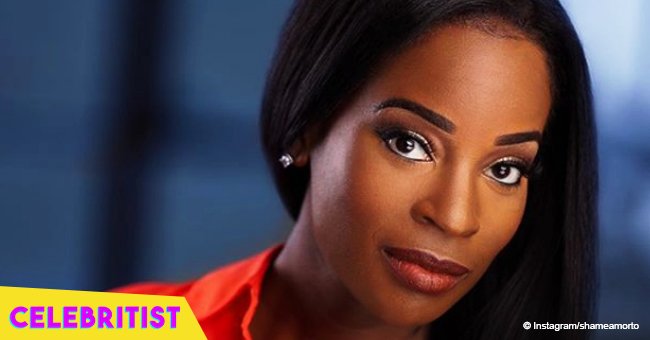 Shamea Morton flaunts baby bump in pink dress with tutu hem at her princess-worthy baby shower
Reality star Shamea Morton threw a lavish baby shower and invited several celebrities, including her fellow "Real Housewives of Atlanta" star Kandi Burruss.
In the first image of the slideshow that Kandi uploaded to her Instagram account, Shamea appeared wearing a beautiful, long-sleeved, semi-sheer pink dress that had a tutu-like design at the bottom section.
Apart from that, her wedding ring and her wonderful crown attracted a lot of attention. Kandi, on the other hand, posed in a sleeveless white dress that was loose at the bottom.
One of the highlights of that photo was Shamea's growing baby bump that was being gently caressed by Kandi. Behind both women, the astonishing princess-like decoration, with a throne included, captured people's sights, as well.
MORE STARS
The rest of the pictures showed Kandi next to several other celebrities and friends, including Kenya Moore, who is also expecting a baby, Tanya Sam, Reece Odum, and so on.
A SPOILED GIRL
For the caption, Kandi pointed out that Shamea "outdid herself" with her beautiful baby shower and added that Shya, the name the reality star chose for her daughter, would be "so spoiled."
PEOPLE'S REACTION
As soon as Kandi uploaded that slideshow, her followers took to the comment section to share their thoughts. One of them was Instagram user @monkbrockenbaugh, who revealed that those were the best baby shower pictures she had seen in her life and she was 57 years old.
SHAMEA'S THOUGHTS ON HER BABY GENDER
In a recent interview the "RHOA" star had with Us Weekly, she pointed out that she did girls "really well," adding that she was scared of having a boy as she was really into the tutus and bows.
Shamea admitted that her husband, Gerald Mwangi, was very excited about their upcoming baby girl, too, as he already calls her his princess.
ANOTHER COUPLE EXPECTING A BABY
Gerald and Shamea are not the only couple who cannot wait for their child to be born as Kenya Moore and her husband, Marc Daly, are also overjoyed with their upcoming child.
One of the photos Kenya uploaded to her Instagram account showed her husband placing his hand on her belly clearly surprised by the baby's kicks. In the caption, Kenya, whose face showed nothing but delight, revealed that Marc was not expecting "baby Daly" to kick.
Please fill in your e-mail so we can share with you our top stories!