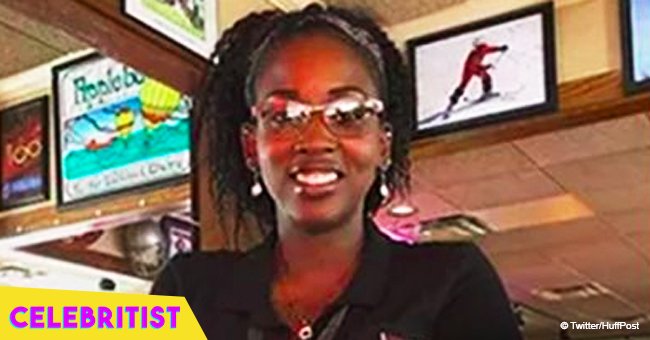 Applebee's waitress receives racist note from white family instead of tip
Jasmine Brewer, 26, served dinner to a family of white people, including young children, at an Applebee's store in Kentucky. Instead of a tip, they left her an awful note.
The incident took place in the store located in Radcliff on September 19. Brewer served the family of four just like she would have done with any other costumer. However, she could feel that something was off with them.
As soon as Brewer approached the family, they were somehow hesitant about talking to her. The young mother revealed that they wouldn't even tell her what drinks or food they wanted to order.
When they finally knew what they would eat, only one person made the order, and barely any other word was exchanged.
BEING PROFESSIONAL
Brewer waited for the family to leave the restaurant to go back to their table and see if they had left anything for her tip, but she found something completely different in the checkbook.
DELIVERING A RACIST MESSAGE
Scrawled on a white napkin, the family wrote, "we DON'T tip black people." At that point, Brewer felt very embarrassed and didn't know what to do, so she texted her mother, Regina, and sent her a picture of the note.
DOING SOMETHING ABOUT IT
Knowing that her daughter was probably too shocked to do something, Regina shared the image of the note in an outraged post in Facebook which became viral in no time.
Soon after that, several people started making online donations to make up for the tip she lost, and to let her realize that a hard-working mother should get nothing but words of encouragement and rewards.
APPLEBEE'S STATEMENT
"All restaurant team members deserve to be treated with dignity and respect. The remarks directed at one of our franchisee's employees are unacceptable and inconsistent with Applebee's values as a brand," a spokesman of the Applebee's store declared.
WAITRESSES DOING A KIND ACT
Two different waitresses, Kathryn Marasco and Brandie White, who work at the Texas Roadhouse in Murfreesboro, Tennessee, learned that Octavius Mitchell Jr. was turning four, and they also knew that he was hearing-impaired, so they knew they had to do something.
After doing a quick research online to learn and memorize how to do the birthday song using the American Sign Language, they performed in front of the boy in the most adorable way. The video of their kind action quickly became viral, and both ladies are now an Internet sensation.
Please fill in your e-mail so we can share with you our top stories!