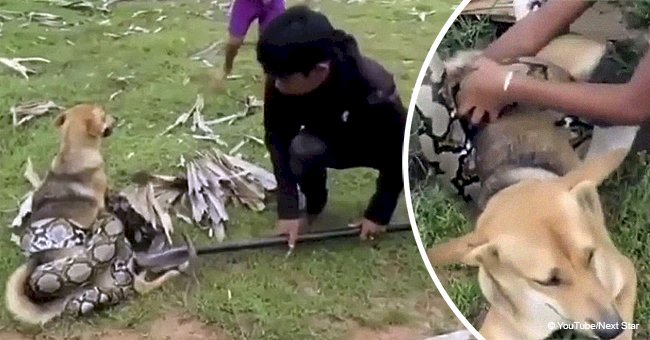 Giant snake catches dog in a death grip, but brave kids are ready to fight for their friend
Three children bravely fought off a giant snake that was trying to eat their pet.
A video posted on Facebook by Najem Seheel show a frightening struggle between three children and a huge snake that was attempting to crush and eat their dog.
The snake, which appeared to be a reticulated python, had wrapped the dog in its deadly embrace and was starting to crush him when the 3 youngsters intervened.
With no other weapons other than leaves and a stick, the boys started fighting off the snake.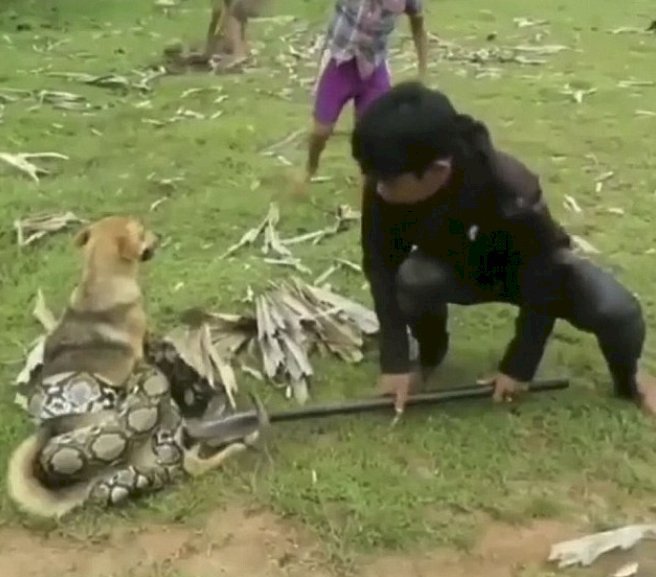 Source: Facebook/Najem Seheel
ONE OF THE WORLD'S LARGEST SNAKES
The reticulated python is a species of python found in South Asia and Southeast Asia, where the clip appears to have been filmed.
Pythons are the world's longest snakes, and even though they are nonvenomous constrictors, there have been reports of people being killed by reticulated pythons, and there have been many instances where livestock and dogs are killed by these powerful animals.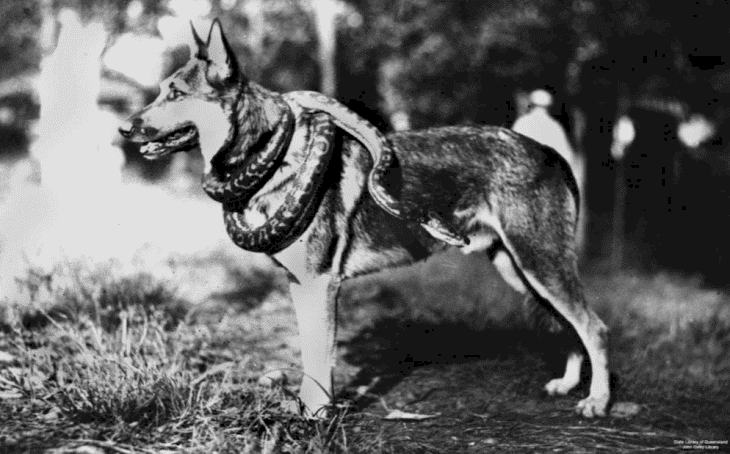 Source: Flikr
THREE BOYS RUSH TO THE RESCUE
Seeing the dog in the python's deadly grip the three boys attempt to unwrap its deadly grip from around the animals' body. Pythons kill by constricting its prey until it stops breathing before devouring it, and the boys knew what they had to do.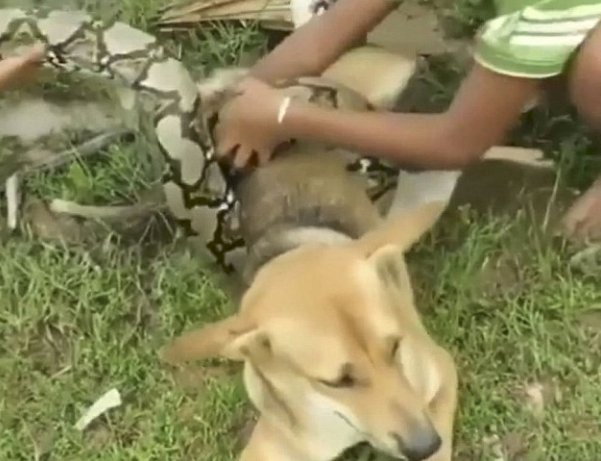 Source: Facebook/Najem Seheel
UNRAVELING THE GIANT PYTHON WAS A FEAT OF STRENGTH
The oldest boy pinned the snake's head with a stick and deftly gripped the head in his hands as he tried to pull it off the whimpering dog by main force. The two other boys worked on forcing the tightening coils off the dog's lower body.
SAVED BY HIS FRIENDS, THE DOG IS UNHARMED
The dog scrambled free, and jumped away from the snake, clearly unharmed. The older boy triumphantly held up the snake, and in the video, it is clear to see that the python is longer than the boy.
ANOTHER DOG IS SAVED FROM AN ANACONDA
In rural Brasil, a group of villagers banded together to save a dog from becoming a giant anaconda's lunch. A man was alerted when he saw the snake thrashing in the water and saw that it had caught a dog in its deadly coils.
Like the reticulated python, the anaconda is a constrictor that kills by crushing its prey, so the villagers knew they had to act fast.
They grabbed the anacondas' tail and started hauling the huge snake out of the river, still wrapped around it's struggling prey. One of the rescuers then proceeded to hit the snake with a stick until it let go of the dog.
In a related story, a child's parents recorded their son playing with a giant python in East Java Province, Indonesia, and social media reacted with outrage.
Please fill in your e-mail so we can share with you our top stories!