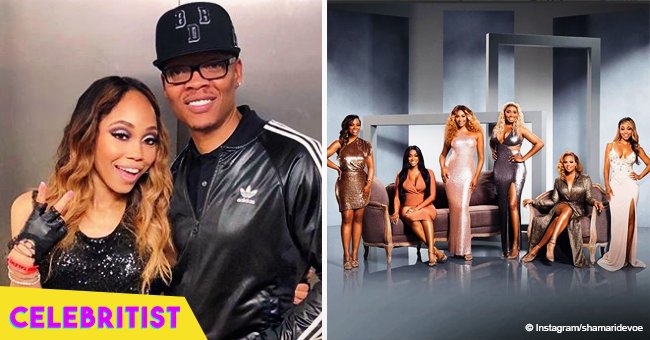 Wife of 'New Edition's Ronnie DeVoe, Shamari, officially joins cast of 'RHOA' Season 11
The "Real Housewives of Atlanta" have a new frenemy. Shamari DeVoe has just joined the cast and is stirring up some drama in the trailer for the show's upcoming season.
There's a new peach in the neighborhood. "Real Housewives of Atlanta" has just welcomed the latest addition to its family, Shamari DeVoe, wife of New Edition's Ronnie DeVoe.
Shamari was front and center in Us Weekly's exclusive look of the 11th season of the reality show. The Blaque singer 's storyline will feature her working on new music with her husband and she also seemed quite hyped up in the trailer, challenging a fight with one of her co-stars.
"I'm gonna fight them bitches," she says on the phone. In the next scene, she's facing off with Nene Leakes and spewing,
"I was an A-list when you were an Alias."
It would seem that Shamari will be stirring up a whole lot of drama on her first season prompting publications to dig up more information about her.
Reports reveal the Detroit-born singer has been singing since she was three. She's been part of several girl groups including a country-urban hybrid group called Buutz, a band called Intrigue, and finally the group Blaque with Brandi Williams and Natina Reed. The band produced two big hits, "808" and "Bring it All To Me."
Shamari also dipped her feet into acting playing the role of Lava in the film, "Bring It On."
In 2006, she married DeVoe. After 11 years, she gave birth to their twin boys.
Shamari's entry into the show is in response to Kenya Moore and Sheree Whitfield's exit. In July, news of the "RHOA" veterans leaving the show hit headlines when Kenya responded to a tweet inquiring if she had been demoted to a friend role in the show. In response, she corrected the notion and denied being offered a friend role, but "just a friend $."
Based on her tweet, there was "no movement in negotiations" despite her storyline becoming interesting with her marriage and baby on the way.
Meanwhile, Sheree also confirmed she wasn't coming back to the show that same month admitting she wasn't fired from the show but rather, she turned down the "lowball" offer she was given.
Months prior, she already hinted at her decision when she wrote,
"Im effing PLATINUM but u prefer silver...And that's ok. I know my worth…#I'llpass."
Sheree seems happy with her decision as she even told her fans after confirming news of her exit,
"Don't u fret…I'm good love."
Season 11 of "Real Housewives of Atlanta" will premiere in November. Meanwhile, here's the trailer that introduces Shamari into the fold.
Please fill in your e-mail so we can share with you our top stories!