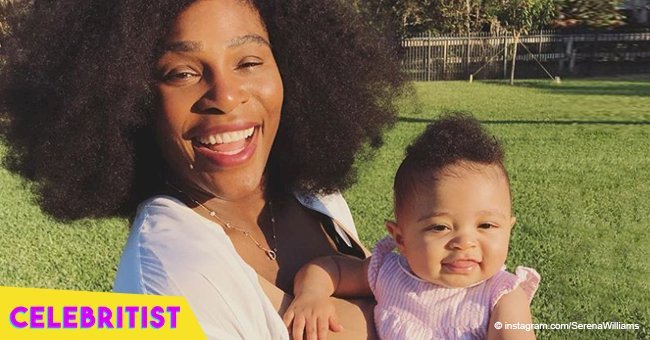 Olympia Ohanian looks all kinds of diva in Serena Williams printed T-shirt & striped bottoms
Olympia Ohanian threw some major fashionista vibes in her print t-shirt and striped bottoms. What's more? Her fashion statement was also a clear message to her famous mom, Serena Williams.
One-year-old Olympia is the cutest; from her fluffy curls to her chubby cheeks, to her hilarious antics. But in a new photo shared to her Instagram page some hours back, all eyes are on Olympia's t-shirt.
Along with a pair of black-and-white striped baby bottoms, Olympia rocked a white t-shirt superimposed with an illustration of her tennis champion mom, Serena Williams. The print was an artistic part photo-part sketch mix of Serena in her tennis uniform, about to serve.
How sweet!
Even sweeter was the way Olympia looked down at the image. Anyone could see the admiration and love in her eyes, and no one needs to be told Olympia is probably the world's biggest Serena Williams fan. Yes, she most likely ranks higher than her Tech mogul father Alexis Ohanian, and that's saying a lot.
Olympia has always been a huge fan, and not afraid to flaunt it. Whether it's rocking miniature versions of her mom's outfits or just being present, this little girl knows what it means to have Serena's back.
SOMETIMES, ALL WE NEED IS A KISS
Following Serena's humiliating defeat at the recently-concluded U.S. Open, the 23-time Grand Slam champ who got emotional in the finals revealed how her daughter came through with the best consolation kisses:
"I got in the car, and Olympia was in the car. It was so weird. She started giving me kisses; she never gives me kisses. She doesn't even know to give kisses ... and she just grabbed me. This little baby is so smart."
CUDDLES WORK JUST FINE, TOO
Olympia, who modeled a miniature replica of Serena's on-court outfit while the tournament lasted, also gave her mom the best respite after the unfortunate incident, snuggling with her under a large Moana-print blanket.
And just last week, Serena shared a cute snapshot of Olympia clutching a tennis ball in a white tutu much like hers. The world-renowned athlete couldn't help penning a heartwarming message to her only child who she welcomed in September 2017.
"I will always protect you. I will always stand up for you. I will always guide you. I will always be with you," Serena promised. "I was put here to be your mom. I love you like nothing I've ever loved before. I thank Jehovah every day for you."
IT'S ALL WORTH IT IN THE END
When you're a mom, world-class athlete, and businesswoman all at once, things can get a little rough now and then. Serena confessed as much when she told People Magazine, "It's been so hard balancing being a mom and starting my clothing line, as well as playing a professional sport!"
With a child as thoughtful as Olympia though, something tells us Serena won't mind putting in the work.
Please fill in your e-mail so we can share with you our top stories!