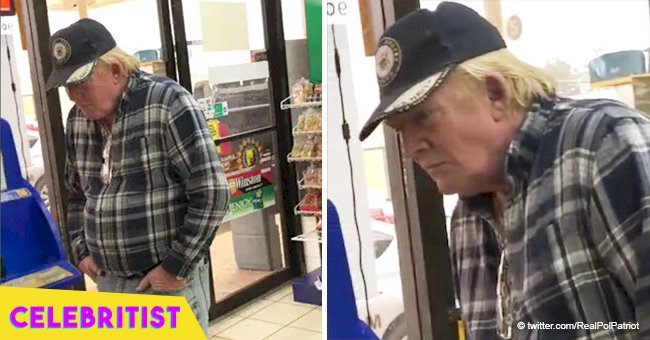 Video of man who looks just like Donald Trump goes viral
Donald Trump's exact look-alike was caught on video and quickly went viral. The doppelganger was seen in a convenience store by a gas station.
An exact look-alike of Donald Trump was filmed by a social media user and posted on Twitter. The 6-second clip that was posted by @RealPolPatriot on Twitter was quick to gain the attention of users on the social media platform. It also had close to 1 million views and received comments which were mostly people finding humor in it.
The only comment made by the user who posted the video was: "Wow, @realDonaldTrump's doppelganger."
Other users commented saying that it really was Trump, saying things like it was his day off on that day, or that he looks as if he is undercover.
"No, it's actually Trump on his day off"
"Looks more like him undercover than a look a like but the chances are small.. Even if he goes out shopping like this to avoid the attention, he would have security guards very close by. Incredible look a like, maybe they're in family?"
"That's Donald Trump! … and if it isn't, yes he needs an agent. Hmm…. That's Donald Trump whether it is or it isn't!"
The "doppelganger" of the U.S president was caught in what seems to be a gas station convenience store, sporting a navy plaid button down, jeans, and a navy cap. Unfortunately, the man and the location of the video were not specified, and still remains to be unknown.
Prior to the discovery of this look-alike of Trump, there have been other look a like's who have gone viral as well. One of them is a Spanish potato farmer whose photo was posted on Instagram by Ian Bremmer. The photo was of a female Spanish farmer who had what looks to be a shovel, being carried by her on her shoulder. He said, "In case you're wondering, Donald Trump's doppelganger is a Spanish potato farmer."
Please fill in your e-mail so we can share with you our top stories!