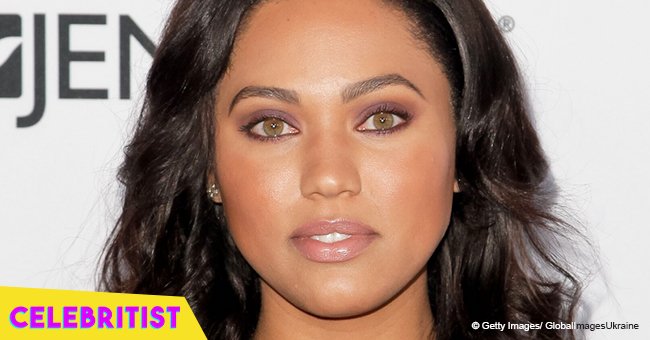 Ayesha Curry underwent surgery to have thyroid and cyst removed

Ayesha Curry updates fans while recovering from a surgery to remove her thyroid and cyst. The mother-of-three who just gave birth to her son a few months ago revealed, "all is good."
Just months after giving birth to her third child with Stephen Curry, Ayesha Curry reveals she had her thyroid and cyst removed through surgery. The mother-of three shared this information on her Instagram Stories where she also praised God for the successful procedure.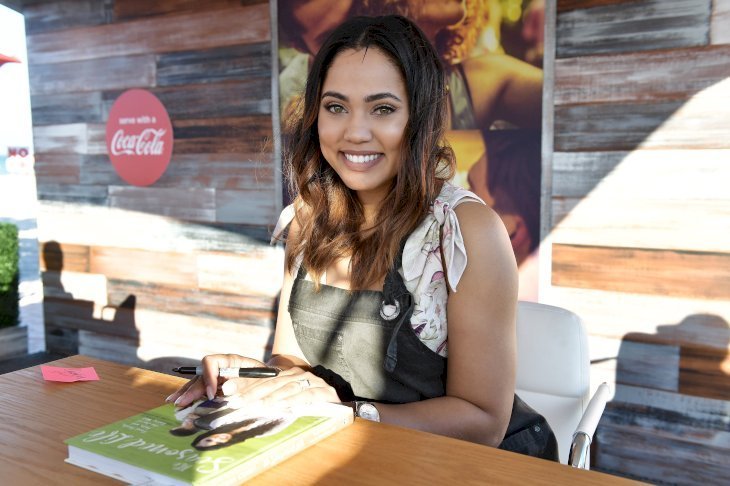 Source: Getty Images
Ayesha isn't new to hospitals having been admitted five times while she was pregnant with her new son, Canon. At the time, she was suffering from hyperemesis gravidarum, an extreme form of morning sickness resulting in nausea and exhaustion. In February, Ayesha detailed how just the smell of food would cause her to feel sick and result in her sadness.
The condition, also suffered by Kate Middleton during her pregnancies is believed to lead to thyroid abnormalities, the degree of which is dependent on how severe the vomiting and weight loss the pregnant woman experiences. It's unclear if Ayesha's surgery was a result of her bouts with vomiting but she did confirm in her post that she had her thyroid and cyst removed before adding,
"All went well. God is good. Thank you for your prayers."
In her post, Ayesha is sitting up in a hospital bed, clearly on her way to recovery.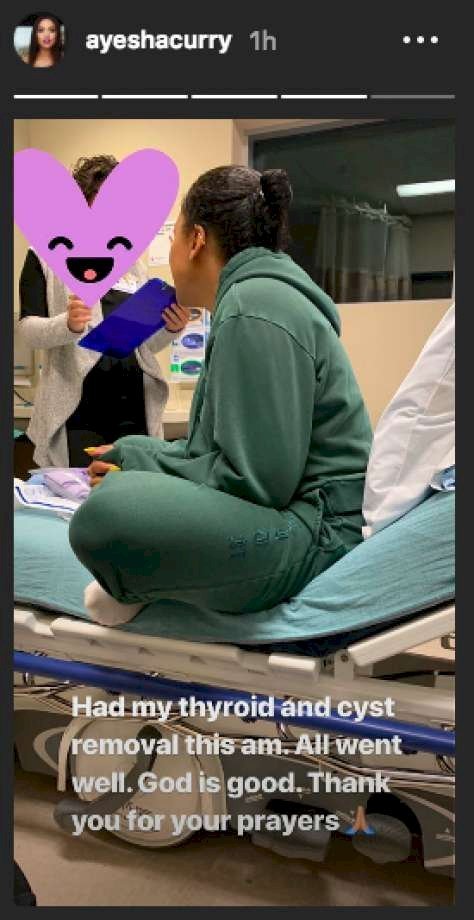 Source: Ayesha Curry Instragram Stories
Though her husband wasn't in the picture, Stephen was by her side while she underwent surgery on Friday morning. In fact, he skipped a presscon game against the Sacramento Kings in order to be with Ayesha. At the time he didn't provide details regarding his absence and simply stated "personal reasons" as the cause. When he returned to training on Sunday, he told reporters who asked about his family that they were good and thanked them for asking.
Ayesha welcomed Canon on July 2 and announced it on her Instagram. She revealed in her post that they named him Canon W. Jack Curry and shared a beautiful photo of their baby with her two older daughters, Riley, 5 and Ryan, 2.
In his young age, Canon is already expected to follow into the footsteps of his father and grandfather, Dell Curry, both legends in the NBA. It's safe to assume with a history like his elders, he would one day become a superstar like them, even surpassing their records.
Please fill in your e-mail so we can share with you our top stories!