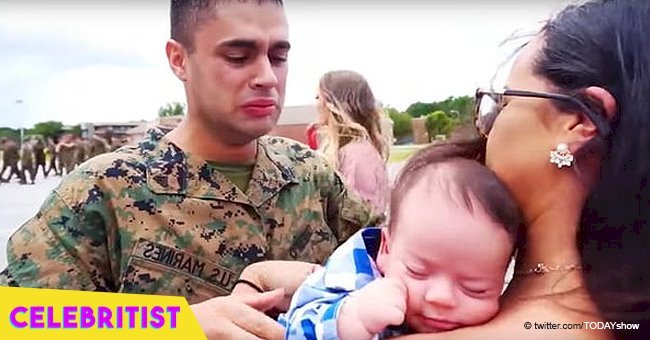 Video of Marine meeting newborn son for first time melts hearts on social media
A first-time emotional encounter between a U.S Marine and his newborn son has been melting hearts and causing tears all over social media, as it shows that even the toughest heroes have a soft side.
U.S. Marine Cpl. Brandon Crespo returned home after a six-month deployment, and while every time a marine goes back home is a joyful and emotional experience for his family, this time around Crespo had a special loved one waiting for him.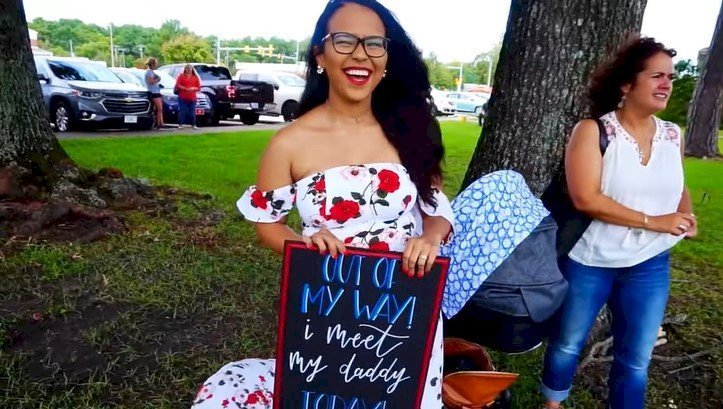 Source: YouTube/ Francis P. Crespo
Crespo's son, Noah Reign, was born while he was away serving the country, but he was more than ready to meet his daddy. Brandon's wife, Francis, made sure to have the encounter documented on video, and the final montage has gathered over 5k views on YouTube and many more in different platforms where it was reposted.
The video shows how Francis, wearing an off the shoulder white dress with a floral pattern, gets ready to receive her husband while holding her baby in arms and a sign that said "Out of my way! I meet my daddy today!"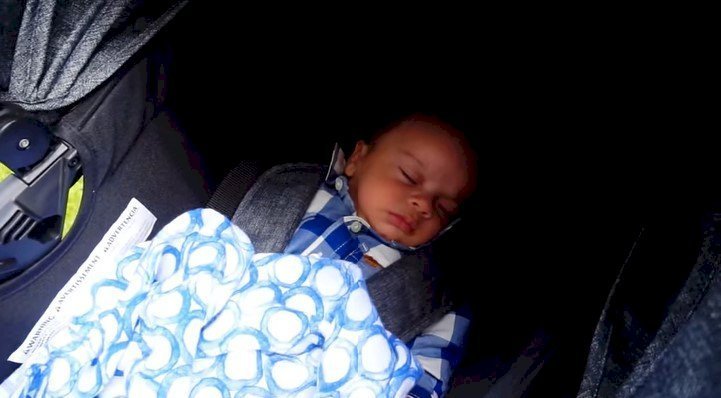 Source: YouTube/ Francis P. Crespo
THE TEARFUL ENCOUNTER
When the marines approach the front gates of the base in Jacksonville, NC to be dismissed, Francis is seen patiently waiting until she finally spots Brandon and he starts walking towards her.
Crespo doesn't reach his family before he throws his cap to the floor and starts wiping the tears from his eyes. Then, he finally embraces his wife and son in a tight hug.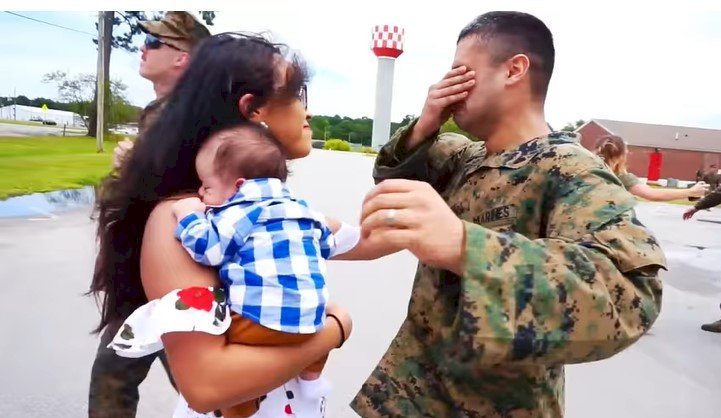 Source: YouTube/Francis P. Crespo
As he holds his baby for the first time, Crespo can't avoid the tears running down his face, and Francis soon joins him in another embrace as they sob together.
The rest of the family, including Crespo's mom and dad, gave the couple a moment to regain their composure before they all take turns greeting Crespo, with his father taking a bit more time and he keeps planting kisses on his son's cheeks.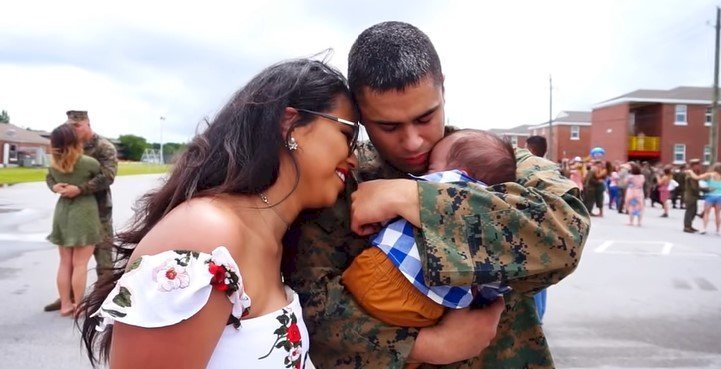 Source: YouTube/Francis P. Crespo
Crespo then holds little Noah one more time, as he walks away from his family to have a father-son moment all by himself. The man is still visibly emotional as he kisses his baby boy's forehead while softly talking to him.
This is one of many videos that show families welcoming their military relatives back home, and that are an example of the emotional difficulties military families have to deal with while being away from the loved ones.
ANOTHER FATHER-SON ENCOUNTER
Another dad who met his son months after he was born is Lance Corporal Justin Tschanz, who returned home after a seven-month deployment with his Helicopter Sea Combat Squadron 21 (HSC-21) "Blackjacks" to the Naval Air Station Coronado last May.
Little Hunter was born five months before, and Justin's wife, Ryanne, told NBC News that she relied on her parents, in-laws and her sister while her husband was away.
"First time I've even touched him," Tschanz said while holding his baby. "I've seen videos, but it's not like the real thing. "My first son, first kid. I'm always going to have a bond with him. I don't really know how to describe it. But if you're a dad, you know the feeling."
"I'm really thankful for [my family's help]… but it's one of those things I never really want to go through again. It's been an emotional roller coaster," added Ryanne.
Please fill in your e-mail so we can share with you our top stories!