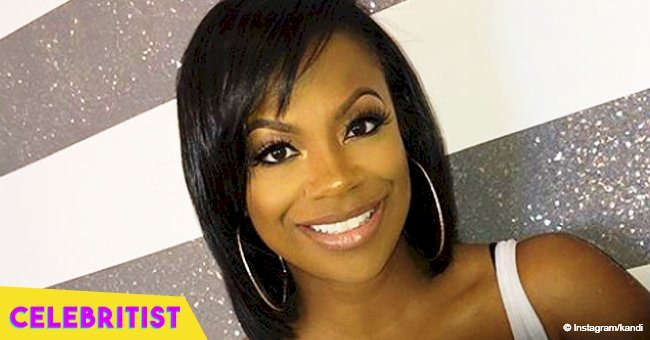 Kandi Burruss flaunts curvy body in black lingerie & sheer skirt amid pregnancy rumors
Kandi Burruss looks stunning in a recent pic shared to her Instagram, showing off her curvaceous figure in an outfit that leaves little to the imagination. Although she's facing some pregnancy rumors, Kandi looks slimmer than ever, and she has fans wondering what the truth is.
The "Housewives of Atlanta" star is getting ready to host "Welcome to the Dungeon" party in a few days, and her Instagram has become a celebration of the exciting event, with Kandi showing off her best burlesque and sexy outfits.
In one of her recent Instagram pics, the mother of two showed off her figure wearing a set of black lace lingerie with a see-through lace high waisted skirt that hides nothing of what's going on underneath it. Kandi also shared a video showing the back side of her outfit, and fans weren't shocked to find out she was rocking a thong.
Kandi completed the look with strappy black sandals, large hoop earrings and her hair tied up in a high ponytail that falls down the side of her face.
"The Dungeon Party & new music drops on Friday! What are you gonna wear to the dungeon?! #ReadyForThis," she captioned the pic.
Fans of the Xscape singer took over her comment section to gush about her figure. One fan wrote "Looking like what the black Barbie should look like yes girl. What u say Kandi the doll next?" another added, "Yyyeeesss, I live for all this sexiness that's given!!!" and a third one said "Gurrrrllll, you look GOOD!!! I LOVE THAT DRESS I wish I could go to ur party sounds like lots of fun."
THE ORIGIN OF THE DUNGEON
The themed party is inspired by the infamous "dungeon" that created drama among Kandi and co-star Porsha Williams in the 10th season of "Real Housewives of Atlanta." For those who don't know, former cast member Phaedra Parks told Williams that Kandi was trying to drug her to take her down to her sex dungeon and take advantage of her.
Porsha repeated the story but never confronted Kandi about it, causing a rift between the pair that fans are hoping they will fix now that Porsha is pregnant.
After so much drama related to the dungeon, Kandi decided to turn it into something profitable, and people love the concept.
PREGNANCY RUMORS
And while Kandi looks incredible in her sexy lingerie, there are some fans confused about the star's slimmer body, considering that she's currently facing rumors about pregnancy after the trailer for the new season of 'RHOA' came out.
With Porsha Williams, Shamea Morton and Kenya Moore being pregnant, it seems like Kandi might have gotten bitten by the jealousy bug. And she's seen visiting her doctor and talking about her struggles to get pregnant on the show.
Burrus confused fans even more when talking to the Daily Dish about the upcoming season; she teased them saying:
"There's so much going on right now, I mean, for real. Todd and I are ex— let's just say we're figuring out the possibilities of expanding our family."
Many people believe Kandi and her husband, Todd Tucker, will be trying to have a second baby through the new season of the show, and some others think she's already expecting.
But Kandi's figure talks by itself. She doesn't seem to be shying away from the cameras or hiding her belly, so perhaps only time will tell what the truth is.
Please fill in your e-mail so we can share with you our top stories!