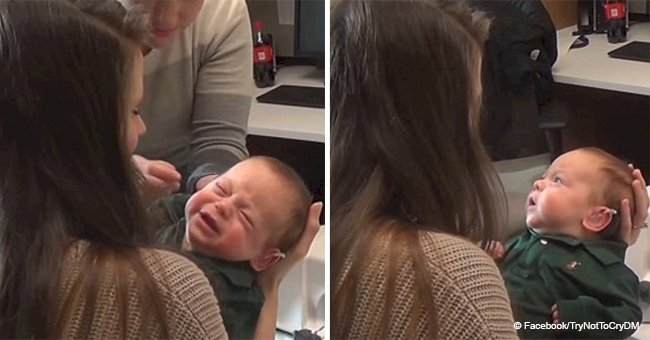 Baby boy can't stop crying until he realizes he can hear parents' voices for the first time
The reaction of both parents and their baby warms hearts when he could hear his parents' voices for the first time.
Taryn and Drew Ruiz, from Oklahoma City, was overjoyed by the arrival of their son Archer. Their newborn was healthy, but they noticed he did not seem to respond to noises or sound. At 3 weeks old little Archer got diagnosed with hearing loss, being deaf. It devastated the Ruiz's but would do what they could to improve his situation.
Children rely on hearing to learn at such a young age and it's critical that hearing loss is addressed as early as possible, failure to do so can cause language delays, trouble with social skills and reading difficulties. Hearing loss is the most common birth defect with 2 to 3 out of 1,000 children affected.
Read more on our Twitter account @amomama_usa.
Source: Facebook/ Try Not To Cry
A month later Taryn and Drew received wonderful news when Hearts of Hearing supplied Archer with hearing aids. This Oklahoma based organization was established in 2003 and provides funding for the first set of hearing aids to children in Oklahoma born with hearing loss.
Five years after they started to supply hearing aids they were able to expand their services by including auditory verbal therapy and a comprehensive hearing health program. Drew got ready to capture footage of the special moment Archer got fitted with his new hearing aids, excited that he would be able to hear their voices and other sounds.
Source: Facebook/ Try Not To Cry
As the video begins Archer is seen crying as the aids are placed on his ears after making sure they fit and are turned on. Mom Taryn is holding Archer throughout and speaks to him. Little Archer stops crying being able to hear the sounds, looking at this mum and around the room taking in all the sounds.
Taryn crying with joy speaks to her son:
"Hey buddy. What do you think? I love you, are you excited? Can you hear everything? "
Archer responds with a smile much to the delight of everyone in the room. Drew overjoyed sings to his son while little Archer responds smiling, appearing as happy as they are he can finally hear.
Later on, Taryn said:
"He was always a happy baby. But now he is smiling and laughing at new sounds all the time, more than before. He loves to hear himself 'talk' and he loves when people talk to him."
A few months ago 25-year-old father Zack Oxendine broke down in tears while serenading his son, 2-year-old Judah. The little boy was born at 23 weeks, weighing a mere 2 lbs and with bleeding on the brain. They kept him in the intensive care unit for six months after being diagnosed with cerebral palsy, lung disease and hearing deficiency, needing several surgeries.
While in the hospital before his surgeries dad Zack used to listen to the song "Boy" by Lee Brice and cry for his son. At home with their son, Zack put little Judah on his lap and started to sing that song to him. Judah responds with a smile and love in his eyes for his dad causing emotional tears to flow during the special moment.
Last year the heartwarming story of Charly got shared after being born deaf, just like little Archer. Her parents, Christy and Daniel got her a hearing aid when she was 3 months old. Once fitted and turned on mom Christy started to speak to her, Charly looks overcome with emotion at the sound of her mother's voice, giving Christy a face she has never seen before. An emotional moment for both mom and Charly as she hears her mother's voice for the first time.
Source: Jukin Media
Please fill in your e-mail so we can share with you our top stories!