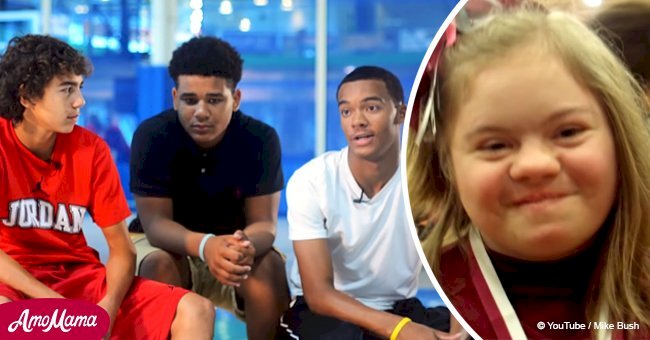 Bullies teased girl with Down Syndrome so her friends decided to teach them lesson
Basketball players give bullies the slam dunk as they hackle a Down's syndrome friend during a game.
Desiree Andrews is a dance and music loving teen attending Lincoln Middle School in Kenosha, Wisconsin. Fellow students and teachers describe her as one of the happiest people in the school. Andrews also has down syndrome, but in the eyes of everyone that knows her, she is Desiree Andrews, a well-liked cheerleader and friend at school.
Source: YouTube/ Mike Bush
During one of the school's basketball games, three of the players from Lincoln Middle School Miles Rodriguez, Scooter Terrien and Chase Vazquez notice a group on the sidelines shouting disparaging comments at Desiree while cheerleading.
Read more on our Twitter account @amomama_usa.
Source: YouTube/ Mike Bush
The three boys are also known as 'the three musketeers' because they love to play on the basketball court together and also decided to do something about these bullies together.
Source: YouTube/ Mike Bush
They had no choice but to stand up for her so during the next game time out they left the coach's huddle and walked over to the other side of the gym where they confronted the bullies, telling them to stop harassing her. Sure enough, that was the end of their hackling.
Source: YouTube/ Mike Bush
The 14-year-old students Terrien, Vazquez, and Rodriguez recently traveled to St. Louis where they received the Musial Award for Sportsmanship in recognition for their actions in standing up for their cheerleader Desiree Andrews. The boys handled the situation with admirable restraint however some find that more challenging.
A recent guest on the popular Russian show Live, Evelina Bledans did not hold back on an audience member when she berated Bledans for being pregnant at 49 years of age. She insulted her youngest son Semyon, who was born with Down's syndrome and said:
"It is dangerous to give birth between the ages of 35 and 40 so what about 49? What were you thinking? Do you want to give birth to another sick child? Will you give birth to another child with Down's syndrome? Nobody needs such a child, not society and not you."
Trying to reason with the audience member was not working, so she got up and walked up to her and slapped her through the face, expressing her disgust by saying:
"I will smack you! This is for my child, understand? You can say anything about me, but leave my children alone!"
Two teens, Chris Kuykendall and Brevin Young both know what it feels like being bullied, as they both experienced it a few years earlier. Now 16 years old and part of the school's football team but also passionate about putting an end to bullying, they teamed up aiming to change the lives of those experiencing it.
After hearing about 5-year-old Keison being bullied so much that he didn't want to go to school they had to do something. To help him, Chris invited Keison to eat lunch with him and the bullying stopped since he was eating lunch with a football player. Keison was doing a lot better after that. A great example set by all those standing up against bullying.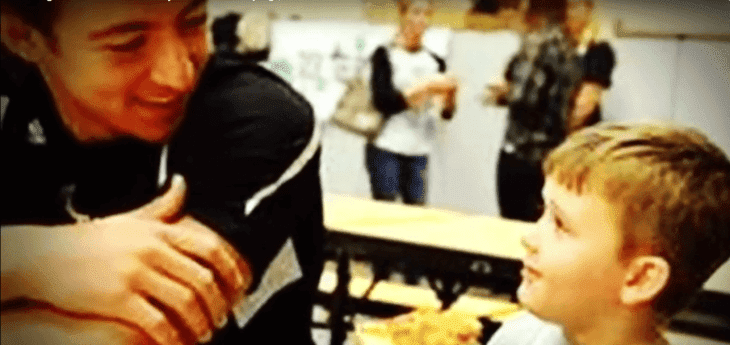 Source: YouTube / The Meredith Vieira Show
Please fill in your e-mail so we can share with you our top stories!