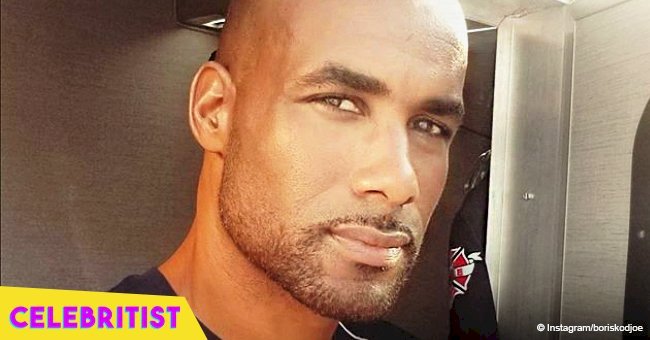 Boris Kodjoe shares photo of wife Nicole Ari Parker in floral dress on her 48th birthday
"Station 19" actor, Boris Kodjoe, who is also a ladies' favorite thanks to his good looks, took to Instagram on October 7 to pen a sweet birthday message to his wife of 13 years.
Kodjoe shared a photo of his woman, fellow actress Nicole Ari Parker, surrounded by pumpkins in a garden. Parker kept to the theme in a green floral dress top that made her look way younger than her 48 years. She also wore her hair loose while staring soulfully at the camera.
A smitten Kodjoe couldn't hide his feelings in the caption as he gushed over his wife who is "aging backwards."
"Happy birthday to this beautiful October flower. I've known you for 18 years now and continue to marvel at your radiance, grace & power. You put joy & happiness into my heart each day and I know that #yougotme!! No matter what! You are a shining light to Soph & Nico and you show them how to live each day in gratitude & constant celebration of life! Hbd @nicoleariparker

#HappyBirthdayNikkiKodjoe #WeLooooveYou #48IsTheNew28 #WhyYouAgingBackwards"
Fans of the couple also got into the birthday mood and filled the comments section with prayers and good wishes.
"Happy Birthday Nicole, May God continue to bless you," said one follower.
Another chimed: "Happy Birthday Nicole!!! May your day be blessed and filled with love!!!"
Earlier in March, it was Parker who made fans go "Awww" with her birthday message to Kodjoe, who had turned 45.
Kodjoe and Parker married in 2005 after meeting on the set of "Soul Food," and it appears their love grows stronger with each passing year.
The parents of two have often been hailed as a positive depiction of Black love in Hollywood, and Parker has opened up in the past about the things that keep them together.
Apart from admitting the importance of taking care of oneself, Parker added:
"You and your husband have to look at each other and say, 'I know that we're going to go through a rough patch,' whether it be financially, intimately, life decisions, you're going to go through a rough patch. But then you have to make the real commitment to say, 'We're going to be with each other through the rough patch,' because there is joy on the other side."
Parker was right. The couple celebrated their 13th wedding anniversary in May, and Kodjoe shared an Instagram video where they danced with joy written all over their faces. Parker stunned in a glittering gold dress, and Kodjoe wore a tailored suit that fit his hunky frame perfectly.
"For we are doing our own dance, a mysterious and adventurous one, God blessed and favored, through sickness and in health, in joy and in pain, and there's no one I'd rather share this beautiful dance with than you," Kodjoe wrote in that post.
Parker and Kodjoe have two children- daughter Sophie, and son Nicolas.
Please fill in your e-mail so we can share with you our top stories!