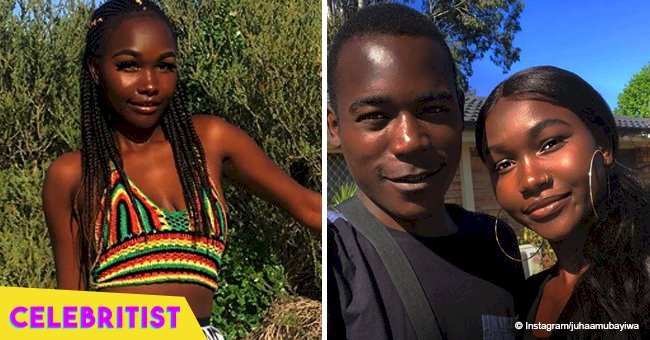 Young African mom went viral for celebrating her son's beautiful black skin with adorable photos

Joha Mubayiwa, a mother of one, has garnered more than 46,000 followers on Instagram by sharing photos mostly of her son, Elijah.
Even though it is not uncommon to see mothers uploading images of their children on social media, the fact that attracted more people to Joha's account is that she has done her best to celebrate the dark black skin of her son that he inherited from her and his father.
All the photos that Joha has shared about the baby show nothing but a beautiful, healthy boy posing for the camera wearing different outfits and doing various activities. Apart from the images, the woman's captions are outstanding.
ROCKING AN AFRO WIG
One of the posts that has more likes shows the boy wearing a huge afro wig while playing with some toys. In the caption, Joha revealed that it was just as if Elijah didn't know he had something uncommon on his head.
Another slideshow portrays Elijah in a bed wearing nothing but his diapers and smiling at the camera. The boy's beautiful cheeks and the funny poses in the rest of the pics attracted a lot of attention.
GROWING UP FAST
For the caption, Joha revealed that the baby was about to turn one year old (July 19) and that she couldn't believe how fast time passed. She admitted that she was ready to see "that toddler side" of Elijah.
Another very popular slideshow – it has more than 9,000 likes and 500 comments – portrays the boy playing with some toys in his crib and on a carpet while Joha takes photos and videos.
PRAISING HIS SKIN
The caption was the best part of the post, though, as the proud mother pointed out that she prayed that Elijah could always find his skin beautiful, even if he gets around people who think differently.
"I pray you never have to surround yourself with people who demean and laugh at your beauty, this world is not as welcoming to everybody and sometimes your happiness gets stripped away without notice but I promise to always be that flutter of happiness in your life," wrote Joha.
HARRASING A BLACK BABY-SITTER
What Joha was addressing was racist people like a woman who followed Corey Lewis, a Black man, who was baby-sitting two white children. The unnamed woman called the police as she thought that there was something wrong.
After Lewis assured the lady that they were fine, she came back and asked to speak to the children. Lewis already knew what the woman was thinking and denied her request.
This prompted the woman to call the police as she continued to watch and follow him from her car. When the police arrived and contacted the children's family, they told them that the man was hired to take care of the children and that there was nothing wrong about it.
Please fill in your e-mail so we can share with you our top stories!