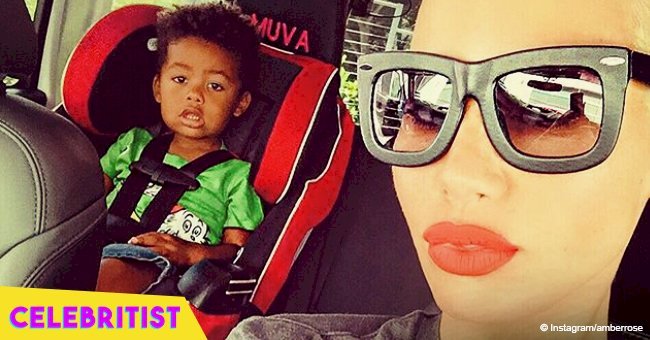 'Kids like to curse,' Amber Rose reveals why she allows 5-year-old son to curse
Amber Rose has been making headlines, thanks to the recent admission that she allows her son to curse. The former stripper also revealed other unconventional parenting decisions she's making.
While at the third edition of her "SlutWalk" event in Los Angeles, Rose, 34, caught up with Us Weekly and made the shocking revelation, along with her reason:
"I let my son curse in the house because it's a form of expression."
Rose does not mind her five-year-old, Sebastian Taylor Thomaz, dropping the F-word now and then, but the mom-of-one does admit she has a few rules.
"Kids like to curse," she said. "I tell him when it's appropriate and not to say it at school. That's it."
The activist, however, agreed there's one thing she's not cool with as regards the decision. According to her, she doesn't like Sebastian using the N-word, which she said he learned from his father, rapper Wiz Khalifa. She would prefer the F-word instead.
SAFE-SEX PLAN FOR SEBASTIAN
Rose went further to talk about other parenting choices she's making, especially with regards to sexual orientation. Sebastian is still a kindergartener, but she has no qualms letting him know how babies are made; he'll know about it before he stops believing in Santa, she joked.
"I'm going to be like Barbra Streisand in the The Fockers, where she's like, 'Honey, have you given your wife an orgasm recently?' That's how my mom was with me."
Sebastian won't be lacking condoms either, because his mother plans to fill the house with it once he gets to "a certain age" and feels ready for sex.
"I'm going to put them in his drawer next to the bed and be like, 'I don't want you have sex right now, but if you do, this is how to protect yourself.'"
WILL THERE BE A SIBLING FOR SEBASTIAN?
Rose and her ex-husband, Khalifa, welcomed Sebastian in 2013, and even though she'd like to give her son a little brother or sister, the "Dancing With The Stars" alum ties it to finding the right man.
Rose, who previously dated rapper, 21 Savage, was most recently linked with NBA player, Monte Morris. She recognized the possibility of having a second child without a man but admitted, "I would like to find a life partner that is like a best friend and just gets me and knows that I'm not easy to deal with."
"Love and companionship is great. But other than that, I don't feel like I need anybody but my son and my family, my health and my happiness," Rose concluded.
WORKING TOGETHER FOR SEBASTIAN
The TV personality and her ex-husband parted ways after Rose filed for divorce in 2014, but they have been able to co-parent successfully since then.
Back in August, Rose shared the secret to her productive co-parenting with Khalifa and advised other separated couples to do the same.
"We don't sleep together. Do not sleep with your baby mama or your baby daddy, 'cause that's when all the feelings and all the fighting, and all that stuff…Move forward and just make it about your child and you'll be able to be friends."
Please fill in your e-mail so we can share with you our top stories!