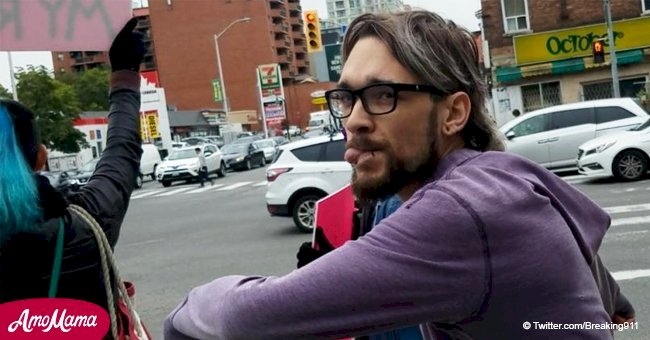 Pro-life woman physically kicked in stomach after talking to pro-choice man
A peaceful protest by pro-lifers quickly turned into a violent display when a woman was struck by a strong pro-choicer.
The pro-life demonstrators stood on the sidewalk of a street holding signs reflecting their position regarding the controversial subject.
They did not actively engage persons but civilly spoke to whoever was interested in talking to them. The video which was uploaded to YouTube can be found below.
A man who was apparently pro-choice joined them and began questioning their views on the issue. He spoke to someone in front of him before turning to face the woman who was recording him.
He asked the pro-lifer what should happen if a young girl is raped, to which the woman responded that the unborn child should be treated the same way as a three-year-old.
The man then did a roundhouse kick onto the woman, sending her phone flying. Someone was heard screaming to call the police.
According to Western Journal, a police news release identified the man as 26-year-old Jordan Hunt from Toronto.
Hunt surrendered to police soon after the video was posted online. In response to the attack, he claimed he had meant to kick the woman's phone.
Nonetheless, he faces eight counts of assault and seven counts of mischief.
Hunt's behavior was not new. It was the second occurrence that led to him being charged during a political rally within the last year.
He has been ordered to stay a minimum of 500 meters away from all "organized pro-life demonstrations."
Source: YouTube/ LifeSiteNews
The incident took place earlier this month, days before another protest from pro-lifers also became violent.
At the start of the clip, a civil discussion is heard taking place between two persons who stood on opposite sides of the issue.
The video then cut to a woman who is attacking a pro-life demonstrator. She first attacked a man, and then a woman next to him named Katie Somers.
The female attacker was allegedly named Gabby Skwarko. She was captured throwing items, shoving, hitting and grabbing the victim's clothes and possessions.
People can be heard telling the woman to stop and "relax." She eventually noticed that she is being recorded.
"Let's go, are you filming me? Let's do this!" she said.
She also reportedly threatened the demonstrators with a metal dolly, at which point the victim's main concern was to keep herself safe.
The highly divisive topic has put many in hot water, including the beloved newlywed royal, Meghan Markle.
Markle's new position has obliged her to follow certain rules, including a particular rule that puts restrictions on expressing one's political views.
As such, the ultra-liberal humanitarian got into trouble with her husband, Prince Harry's friends for her pro-choice views in July.
The former actress was said to have shown support for Ireland's referendum legalizing abortion.
This was frowned upon but no further action towards Markle is known to have been taken as a result of her outspokenness.
Please fill in your e-mail so we can share with you our top stories!