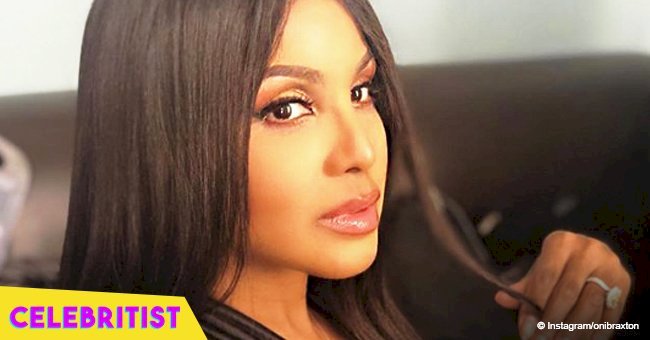 Toni Braxton, 51, defies her age in golden see-through dress with deep cleavage in birthday pic
Legendary R&B singer, Toni Braxton looked much younger than her 51 years in a birthday pic she shared on Instagram.
Toni turned 51 on October 7. In the photo found below, she stunned in a gold and glittery number. The see-through outfit also featured a plunging neckline that put the singer's cleavage on display.
She wore a full face of makeup and hair that fell way past her shoulders. The "Unbreak My Heart" hitmaker didn't have much for jewelry; only a silver bracelet and of course, the dazzling rock she got from her fiancé earlier this year.
DELAYED WEDDING
Toni and hip-hop mogul Bryan "Birdman" Williams began dating in 2016 and announced their engagement eight months ago in February. Since then, however, fans have been worried over Toni's repeated admission that she and Birdman do not have a date fixed for the wedding.
"There's not a date. There's not a color scheme that's etched in stone; there's nothing. I haven't picked the dress yet, even, ma," the Grammy winner told her mother in August, in a clip for their reality show, "Braxton Family Values."
Toni said that it's been hard to plan anything because she and Birdman, whom she lovingly called "B" after his birth name Bryan, both have busy schedules.
"B and I got engaged seven months ago, but we haven't set a date because of my schedule. I hate that. You're supposed to set a date and stick to it. But unfortunately in our business it can be challenging sometimes."
"He's part of the problem. He's very busy if not more busy than I am so I have not set a date for the wedding yet."
Despite Toni's explanations, however, some fans are speculating that the real reason behind the wedding hold-off is Birdman's lengthy court battles over money with Lil Wayne and other "Young Money" artists.
FAMILY TROUBLES
In the meantime, Toni is fully occupied with family drama arising from a contract disagreement over their reality show. The Braxton family was unable to reach an agreement over pay negotiations with WeTV and decided not to film the next season.
However, Toni's sister, Traci, allegedly broke that pact and continued filming the show, along with a couple of newcomers like Phaedra Parks. This drove a rift between the sisters; Toni and her other sister, Tamar have been accused of maltreating Traci.
In one teaser for the reality series, Traci was heard telling their father that one of her sisters said: "she was dead to them."
In a bid to repair their damaged relationship, the sisters sat down last month for an intervention led by famed life coach, Iyanla Vanzant.
Hopefully, the siblings get to work through their grievances and stay together as a family.
Please fill in your e-mail so we can share with you our top stories!