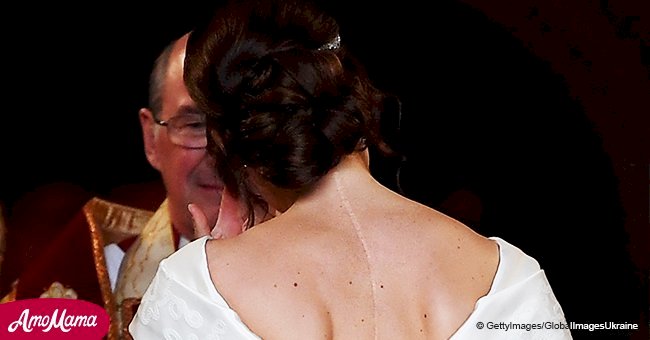 Here is why Princess Eugenie unveils scar from spinal surgery for the first time
Instead of hiding her physical imperfections as most women do on their big day, Princess Eugenie intentionally chose to show it off for the world to see.
Backless dresses are very popular designs chosen for wedding dresses. However, Eugenie chose the graceful style for a very specific reason.
The royal was left with a scar at the top of her back as a result of a major surgery she did to correct a spine curvature when she was 12.
Instead of trying to forget the past, Eugenie wore a Peter Pilotto gown that would showcase her battle scar and hopefully inspire others who shared her condition.
According to BBC, the Queen's granddaughter has scoliosis, a condition that leads to extreme bending of the spine to one side.
It subsequently forces one's shoulder blades to protrude while giving the back a rounded look.
The 28-year-old received surgery at the Royal National Orthopaedic Hospital. She said to ITV's "This Morning":
"I think you can change the way beauty is."
"...it's a lovely way to honor the people who looked after me and a way of standing up for young people who also go through this."
The condition generally appears from the ages of 10 to 15 and there is no known cause.
Some theories are that bones do not properly form in the womb and that other medical conditions like cerebral palsy lead to scoliosis.
Among Eugenie's operation team for her surgery was Jan Lehovsky, a spinal surgeon.
"Most of the patients affected by scoliosis are young girls and she's a real role model for them."
"She's someone who can inspire them, which is so important for the young ladies coming through the surgery."
Staff members of the Royal National Orthopedic Hospital were reportedly invited to the wedding on Eugenie's request.
They stood at St. George's Chapel where Eugene was escorted by her father Prince Andrew down the aisle.
Her Greville Emerald Kokoshnik Tiara borrowed from the Queen glittered in the air as she arrived.
Eugenie was also happy to be sharing her special day with other honorable organizations who help with scoliosis treatment.
Additionally, big-name celebrities were present to see the fairytale wedding. Cara Delevingne and Robbie Williams were there.
They, along with the 850 inside guests and 1,200 persons who followed the ground proceedings, cheered Eugenie and Brooksbank when they kissed.
Also present were the Duke and Duchess of Cambridge as well as the Duke and Duchess of Sussex.
Eugene's mother the Duchess of York also attended. In fact, she turned heads with her quirky outfit for the big event.
Sarah Ferguson wore a rather show-stopping hat atop her emerald dress. Online, it was compared to "Harry Potter's golden snitch.
During the wedding, Prince George and Princess Charlotte took the roles of pageboy and bridesmaid respectively.
Little Louis de Givenchy stumbled over at one point of his walk. Princess Beatrice, sister to the bride, was the maid of honor.
Please fill in your e-mail so we can share with you our top stories!